Wanneer:
18 maart 2022 @ 19:15 – 21:30
2022-03-18T19:15:00+01:00
2022-03-18T21:30:00+01:00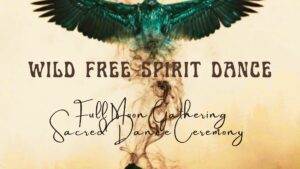 yess 
 happy to come together again
to connect with our true nature, wildness, life force, free spirit & divine essence 
 into our M*A*G*I*C!
to connect with eachother 
dancing the new earth 
 we are love 
we are light 
 we are nature
 𝕒𝕨𝕒𝕜𝕖𝕟 𝕪𝕠𝕦𝕣 𝕨𝕚𝕝𝕕 𝕟𝕒𝕥𝕦𝕣𝕖 
 𝓻𝓮𝓶𝓮𝓶𝓫𝓮𝓻 𝔀𝓱𝓸 𝔂𝓸𝓾 𝓽𝓻𝓾𝓮𝓵𝔂 𝓪𝓻𝓮 
 welcome sisters & brothers!
in this dance ceremony at the night of the Full Moon
in a sacred free space of BEing 
connecting deeply with all elements of nature 
 the earth, water, fire, air and universe
 surrender to your dance 
dancing barefoot to fully feel & ground on mother earth
deeply connect with your body & breath
sensing, liberating, releasing, embodying your true nature & divine essence
freeing our voices
opening into the universe & earth 
 our heart space
into our source of joy, bliss & infinity
the space of silence & wisdom
all divine energy flowing to let us root & fly
 our dance is our prayer
 our body is our temple
 movement is our medicine
beautiful music inviting you to dance your shamanic & divine dance
welcome at 19.15h
at 19.30h we will start with the Full Moon ritual and landing into our body & breath, with sacred movement together
we then surrender into our own beautiful dance
at the end we close together and let all integrate through silence and voice
~*~*~*~*~
inschrijven
vooraf inschrijven door een PB of een mail te sturen naar marjon@dansdoorhetleven.com en je aan te melden in het event
investering
22 euro 
 contant bij binnenkomst
locatie: Theaterzaal den Dullaert. Een mooie grote zaal, zalige houten dansvloer, fluwelen gordijnen, zachte verlichting, super soundsystem
adres: Sportlaan 24, Hulst (Z-VL. Nederland)
vrije parking
na het dansen, bij zacht weer, kunnen we nog de natuur in gaan om te genieten in het licht van de Volle Maan 
graag meenemen:
een flesje water
sacred symbol 
 voor het altaar
kleding waarin je je vrij voelt
instrumenten ook welkom!
Veel liefs & welkom!
Marjon
dansdoorhetleven.com
Marjon is a passionate dancer. Deeply connected with her body & free spirit. She is gracefully guiding from her intuition, deep love & light, senses and connection with nature & universe.. She is bringing the medicine of joy, divinity and freedom. Letting beautiful people coming together to connect