Wanneer:
23 juli 2021 @ 19:00 – 22:00
2021-07-23T19:00:00+02:00
2021-07-23T22:00:00+02:00
i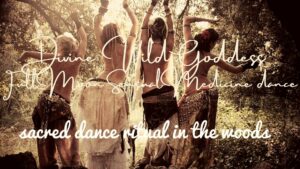 Divine Wild Goddesses
dancing with the Full Moon
Sensual Medicine dance ritual
in magic & mystic woods….
Aquarius Full Moon on Friday July 23. With the sun in Leo. The elements of air & fire..
We will also connect with Maria Magdalena.. as it was her feast day the day before 
Women are deeply connected with the rhythms of the moon. The full moon period is when a woman is at her strongest. When we tune in, we align to our natural rhythm, to the rhythm & blessings of nature 
When women come together, magic happens..
 awakening, remembering & RISING!!
Welcome beautiful Women, Sisters, Goddesses.. to dance with this magical energy, weaving your magic.
In the sacred temple of nature, connecting with all elements, dancing barefoot on Mother Earth. Remembering your mystic & magic
grounding into the earth, into your sensual body, flowing like water, awakening your fire, spreading your wings. dancing your healing dance, your dance of wisdom, joy, truth, LOVE
We will start with a shamanic ritual to invoke love. Tuning into our body & self, the moon, our intention for the dance. With sacred movement to awaken our feminine bodies. From there weaving into a conscious free dance. A dance of your body, heart & spirit. Dance is our medicine
After the dance you are welcome to enjoy fresh herbal tea, enjoy sitting together
Included 
 to nurture our bodies:
Fresh herbal tea.
Face-paint & earthclay (Heilaarde)
Sunflower bio oil with orange essential oil
Welcome at 19h to arrive in the space of the woods.
We will start the danceceremony at 19.19h.
The ceremony will end at around 21.44h
Please Bring with you
– blanket
– bottle of water
– cup for the tea
– a red or orange wide skirt or dress in which you feel free, beautiful, feminine
– symbols for the Full Moon altar
– instrument if you wish
– anything else you need
Investment:
25 euro
for social income ticket (pm me for info)
Registration on beforehand:
please send me a PM or mail (marjon@dansdoorhetleven.com) to register
you will then receive further info on the location
Location:
in a beautiful private woods
in Hamme (Belgie)
Feel free to invite your sisters
And if you have any questions please PM me 
a loving & warm welcome
Marjon
www.dansdoorhetleven.com
Marjon is a passionate dancer, guiding from her heart & soul.
Deeply connected with her sensual body and nature.
inspirations from a.o.
Sacred Feminine dance
Shamanic healer training
Tantric Rose Priestess training
SuryaSoul® dance of life
Nia® sacred body & soul holistic dance