Wanneer:
5 juli 2020 @ 10:30 – 12:00
2020-07-05T10:30:00+02:00
2020-07-05T12:00:00+02:00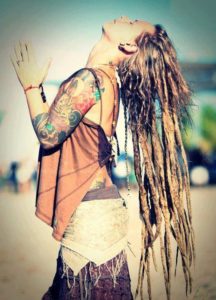 Ecstatical Sundaymorning ♥ awakening ♥ let's come together ♥ and
D A N C E the Eclipse Full Moon in Capricorn & Sirian Stargate activation
We dansen met de magische energie van deze volle maan eclipse & Sirius Stargate**
Deze volle maan is een bloemmaan, of ook wel rozen maan genoemd. In het sterrenteken Steenbok.
Met je blote voeten in het gras..rond de lindebomen, met alle elementen van de natuur.
* Come to dance your magic * your power* to let go.. * into your essence *
An ecstatic dance, a dance of connection, a dance of communion with divinity and the medicine of the moon
Full moon is the time of summer, blossoming, playful, expressing, fullness, offering your gifts, loving yourself… ♥
**Sirian Star Gate Activation
'These powerful Light Codes will transmit energy, information, and high frequencies to Awaken us a Humanity to greater love, compassion and understanding of our collective journey and the afterlife. These frequencies activate the quickening shift of our physical vibration from carbon to crystalline with cellular transformation and restructuring.
Be ready, grounded and centered with clear intentions within your physical Body Temple to receive this Star Medicine, to hold and feel more Light, and to receive insight and guidance for your personal transformation.
This is a Monumental Activation of personal and collective Awakening for Humanity's Evolution, for inspired Earthly change and embodied enlightenment.
May we come together in the unity of the Heart. For one and for all' ~ Goddess Rising
Graag 10 min. vooraf aanwezig zijn ♥ We starten om 10.30 uur!!
meenemen:
een krachtsymbool & BLOEM voor het altaar in de natuur
deken, handdoek, flesje water
kleding waarin je je vrij kunt bewegen
bijdrage:
bijdrage 15 euro of kaart + 2 euro bijbetaling
alle verdere info klik hier
aanmelden:
mail marjon@dansdoorhetleven.com of stuur een pb om je aan te melden!
♥ Welkom
~ xx ♥ Marjon