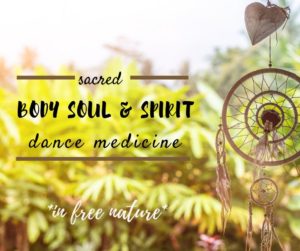 dansen in de vrije natuur
een dansbeleving met je blote voeten in het gras, omringd door bomen, water, bloemen, zon, wind..
een bijzondere plek met vijf Lindebomen, een veldje aan het water. Lindebomen hebben een magische energie.
*dancing in the temple of nature* 
geplande data / thema:
zondag 31 mei, 11-12.15 uur *hartchakra* Free Wings of Love *Pinksteren*
dinsdag 2 juni, 10.30-11.45 uur *keelchakra* I feel free to express myself
zondag 21 juni 11 - ..  Zomerzonnewende - meer info volgt!
bijdrage gewijzigd ~ zie hieronder!
 intentie van deze dansen in de natuur is terug verbinden met je ware natuur
* welkom - rooting - intentie
* je lichaam openen en in beweging brengen ~ alle chakra's openen ~ met natuurlijke bewegingen geïnspireerd op Nia® en/of SuryaSoul®  * je plezier volgen * sensaties in je lichaam wakker maken *
* free dance journey ~ let it all flow & express ~ dance your own dance
* soul stirring music ~ inspiring your body, heart, soul, spirit & emotions
* sounding ~ mantra
* afsluiting ~ verstilling
𝓶𝓸𝓿𝓮𝓶𝓮𝓷𝓽 𝓲𝓼 𝓶𝓮𝓭𝓲𝓬𝓲𝓷𝓮 ~  𝓭𝓪𝓷𝓬𝓮 𝔂𝓸𝓾𝓻 𝓹𝓻𝓪𝔂𝓮𝓻
Elke dans is uniek
De intentie van deze dans is vooral vrijheid, in je lijf komen en intunen op je eigen wijsheid. De relatie verdiepen met je lichaam, hart, ziel, spirit, emoties & de natuur. Jouw magie dansen.
Elke dans dansen we alle chakra's, met een toewijding aan één specifieke chakra.
De bewegingen (Nia® / SuryaSoul®) zijn natuurlijk en nodigen je hele lichaam uit om te openen en ontspannen.
De muziek inspireert je om vrij te dansen, bewegen, ademen, expressie te geven, de energie te laten stromen..
Dansen in de natuur is magisch, vreugdevol en voedend. Dansen in de natuur brengt alles in harmonie... receive the gifts of Nature
sacred space:
we dansen op een ruim veld, er is genoeg plaats om te dansen met 1,5 mtr en meer!
creëer zoveel vrije ruimte om je heen als dat het veilig & prettig voelt voor jou <3 daar is ruimte genoeg voor!
met respect voor elkaar
je bent welkom! (als je verkoudheidsklachten hebt of koorts, dan het verzoek om niet te komen)
bijdrage dans  - 75 min - betalen na de les (graag gepast!)
losse dans: 13 euro
inschrijven voor 5 buitendansen: 50 euro (10 euro per dans) - betalen bij de eerste dans! (geen restitutie mogelijk) (periode t/m eind augustus)
locatie:
onder de Linden, bij de Wallen in Hulst (Nederland)
voor de precieze locatie, stuur me een mail (marjon@dansdoorhetleven.com)
meenemen:
een matje, handdoek
kleding waar je je vrij in voelt
flesje water
welkom!
liefs Marjon