Wanneer:
12 augustus 2022 @ 19:15 – 21:44
2022-08-12T19:15:00+02:00
2022-08-12T21:44:00+02:00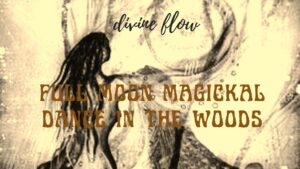 welcome 
 sisters & brothers 
 Goddesses & Gods
to dance under the Aquarius Full Moon
barefoot on the soft earth, between holy Birch trees, a magickal sacred circle space in the woods
let's open in the Magick!!
landing in the Temple of Nature, Sacred Ritual
softening your body, your heart, feeling your feet grounding
slowly surrendering to your silence, your breath ~ letting your dance unfold… flowing.. into the magick & mystery of you, life, the earth, the universe
deeply connect with your inner nature, your inner temple, nature around, eachother, the full moon medicine 
your body is your temple
your movement is your medicine
your dance is your prayer
in Divine Flow * Sacred Ritual * we open, free, receive, connect, remember & rise.. into our Divine Medicine Shamanic dance journey
* dancing into the new earth *
* weaving a golden web of love & connection *
MOON MAGICK 
Full Moon is dancing & rising into your FULLNESS, celebrating all of you.. Freeing, Liberating & surrendering to your magick
This Full Moon is connected with Aquarius, the water bearer, the element Air & heart energy; with the Sun in Lion, the fire element, our inner Sun
*~*~* ~*~
Practical..
 welcome to bring with you
**symbols from nature, crystals, light objects, flowers…
to make a powerful Full Moon altar
**drums, ratels, other music instruments
**water, cup for the tea
**wear clothes (layers) in which you feel & move freely
Included:
Fresh Herbal tea
The place of dance:
near Hulst (info at your registration)
we will go into a silent beautiful & powerful place in the woods. a place where we can dance barefoot on the soft earth
between the holy magical rising birch trees & open grass field
Time:
welcome at 19.15h
we will start with the ritual at 19.30h
ending together at around 21.44h with sitting on the soft earth floor, nourishing herbal tea, bading in the light of the moon
reading our Moon Wisdom Cards
Energetic investment:
23 euro – payment in advance (till August 9) to reserve your beautiful sacred place
after August 9 – 25 euro in advance
registration at the day of the dance (if still places available) – 25 euro cash payment
Registration on beforehand (max nr of spaces at our beautiful space in the woods!)
send me a mail (marjon@dansdoorhetleven.com) or pm to join!
you will then receive further info
 welcome
love & light
Marjon