jul
13
wo
Full Moon Divine Dance Ceremony in the Woods
jul 13 @ 19:15 – 21:30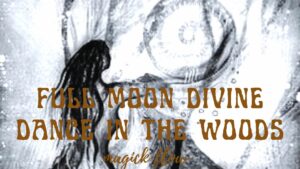 welcome 
 sisters & brothers
to dance under the Super Full Moon
barefoot on the soft earth, between holy trees, a magickal sacred space in the woods
This night, July 13, at 20.38h it is Full Moon time! The number 13.. Divine Number.. let's open in the Magick!!
landing in the Temple of Nature, Sacred Ritual
grounding in your body, your heart, feeling your feet soften
slowly surrendering to your stillness, your breath, your silence
letting your dance unfold…
into the magick & mystery of you, life, the earth, the universe
deeply connect with your inner nature, your inner temple, nature around, eachother,
the full moon medicine 
your body is your temple
your movement is your medicine
your dance is your prayer
in Divine Flow * Sacred Ritual * we open, free, receive, connect, remember & rise.. into our Divine Medicine Shamanic dance journey
* dancing into the new earth *
* weaving a golden web of love & connection *
MOON MAGICK 
Full Moon is dancing & rising into your FULLNESS, celebrating all of you.. Freeing, Liberating & surrendering to your magick
This Super Full Moon is in Capricorn, connected with the earth energy; the Sun stands in Cancer, connected with the Water Element
more full moon info follows…
*~*~* ~*~
Practical..
 welcome to bring with you
**symbols from nature, crystals, light objects, flowers…
to make a powerful Full Moon altar
**drums, ratels, other music instruments
**water, cup for the tea
**wear clothes (layers) in which you feel & move freely
The place of dance:
near Hulst (info at your registration)
we will go into a silent beautiful & powerful place in the woods. a place where we can dance barefoot on the soft earth
between the holy magical rising birch trees & open grass field
Time:
welcome at 19.15h
we will start with the ritual at 19.30h
ending together at around 21.30h with sitting on the soft earth floor, nourishing herbal tea, bading in the light of the moon
Energetic investment:
22 euro – payment in advance to reserve your beautiful sacred place
25 euro at the day of the dance (if still places available)
Registration on beforehand (max nr of spaces at our beautiful space in the woods!)
send me a mail or pm to join!
you will then receive further info
love & light
Marjon
sep
10
za
Volle Maan Goddess event
sep 10 @ 11:00 – sep 11 @ 20:00
Oha wilde wijze wuven!
Ik mag dat zeggen – ben zelf een wuuf.. en het is deze keer enkel voor wuven..(wild, wijs, wulps en welgevormd – maakt niet uit..welgemanierd..niet persé nodig..)
Want – omdat het lekker loopt – organiseren we weer een volle maan event
En dit keer komt Marjon van Dorsselaer, die een Goddess dans geeft aan Pierre Haina oftewel de steen der voorouders – een zeer krachtige plek.. die de dans een extra dimensie geeft..
Marjon omschrijft haar werk als volgt:
Goddess dance .. openen in je magie en mysterie. Je lichaam als tempel.
Je dans van hemel en aarde. Diep verbinden met de natuur, de maan, de sterren..
Je heupen bevrijden, sensueel, goddelijk, wild… Verbinden met je diepe wijsheid, hart & sacred wombspace. Overgave aan je wilde wijze dans. Remember who you truely are..
love to see you!
Yess! Marjon! – laten we de 'apen'kuren van de wereld uit ons systeem dansen..!
PlANNING TWEEDAAGSE:
DAG 1
11u welkomstritueel in mijn bos Iggdrasil
13u megalieten krachtwandeling (met sjamanistische rituelen)
19u dinner in Iggdrasil – (potluk)
Overnachting bij de krishna's (inbegrepen in de prijs voor max 8 personen – zijn er meer kandidaten dan kan men overnachten in tenten in Iggdrasil)
DAG 2
7u vroege vogels kunnen deelnemen aan de ochtenddienst van de krishna's
9u ontbijt bij de krishna's (een continentaal ontbijt is sowieso inbegrepen maar wil je een vegetarische krishna maaltijd – kan je aanschuiven bij de krishna's aan vrije bijdrage – je mag hier dan ook je lunch pakketje maken voor de dans)
11u waterritueel aan de bron van NY (levend water voor de dans)
11u44 dans en ritueel
14u44 einde dans
Nadien kan wie dat wenst nog een klankreis ontvangen in mijn sauna in Iggdrasil en samen nog een hapje eten (potluk,)
20u sjot ik iedereen buiten – na een warme knuffel natuurlijk die minstens twintig seconden moet duren – dan begint het knuffelhormoon te werken..ah ja!
PRAKTISCH
PP 115 euro – voorschot van 50 euro betalen aan Marjon Van Dorsselaar: NL08 ABNA 0445 0685 23 (voorschot betaald = ingeschreven en annuleren kan tot twee dagen voor het event – anders pech geld weg.. en tof indien je dan je ticket aan een ander geeft)
Potluk voor beide dagen – drank is inbegrepen
Te bereiken met de trein – station Melreux ligt op een drietal kilometer van mijn bos – indien je goed op tijd komt – kan je opgepikt worden
Als je het voorschot hebt betaald: stuur een mailtje naar annickaragua@gmail.com
VREDE, LICHT, LIEFDE!
Warme groet,
A'Na-Mari