Wanneer:
20 november 2022 @ 10:30 – 12:00
2022-11-20T10:30:00+01:00
2022-11-20T12:00:00+01:00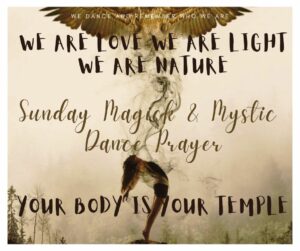 Welcome all sisters & brothers to come together in a sacred magickal space to DANCE!!
into your Inner Divine Magick * your inner Universe * into your true Nature * into your Being
where you are fully ALive, Wild & Free, Grounded, Divine, Love, Light and Joy
*
A Magick & Mystic Sacred danceprayer
Deeply connected with your Body Temple
with Mother Earth & The Universe
Slowing Down ~ opening into your place of Silence, your Breath, your Magick & Mystery..
Your dance arising, your energy flowing freely
Surrendering to wonderful music taking you on a journey
Celebrating your divine being of light & love, your wild & free shamanic nature, your inner magick & mysteries
*
A dance poetry ~ expanding in who you truely are ~ a journey of Freedom & Infinite Joy ~ awakening Your Sensual Wild Animal Body
*
Our Movement is our Meditation
Our Dance is our Medicine
Our Body is our Temple
We are the Universe, we are Nature
*
we dance, we move, we sound & sing, we surrender, we expand, we connect, we liberate, we play, we breathe…
with sacred ritual dance, magickal conscious dance journey ~ moving free, divine & abundant ~ ceremony, singing & music circle
*
Please bring with you:
sacred symbols for the altar
music instruments
bottle of water
*
Date/Time
Sunday November 20, 10.30-12h
we start at 10.30h with our barefoot landing around the altar
welcome 10 min. in advance!!
Location: theaterzaal den Dullaert, Sportlaan 25, Hulst
A beautiful space of dance, with wooden floor, red velvet curtains..
*
Investment:
20 euro
Register on beforehand!
And safe your sacred magickal spot 
mail: marjon@dansdoorhetleven.com
*
a wonderful welcome 
love Marjon
let's dance & celebrate the sacred & magick of life
into the new earth