Wanneer:
29 oktober 2023 @ 13:00 – 18:00
2023-10-29T13:00:00+01:00
2023-10-29T18:00:00+01:00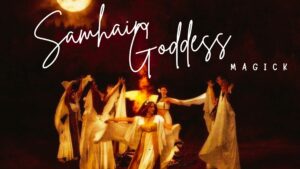 𝓫𝓮𝓪𝓾𝓽𝓲𝓯𝓾𝓵 𝓖𝓸𝓭𝓭𝓮𝓼𝓼,
Join us in Magickal Rituals & Mystical Celebration of Samhain at the Full Moon
A Celtic celebration from the old into the new. A celebration of life, death & rebirth.
in a Sacred Space for Women, a Goddess Temple of Transformation, Power & Connection
In this powerful time of the year we will come together with women to open into our Magickal Power & dive into our deep Mysteries 

*
𝓐𝓻𝓮 𝔂𝓸𝓾 𝓻𝓮𝓪𝓭𝔂 𝓽𝓸 𝓫𝓻𝓲𝓷𝓰 𝓐𝓫𝓾𝓷𝓭𝓪𝓷𝓬𝓮 & 𝓟𝓻𝓸𝓼𝓹𝓮𝓻𝓲𝓽𝔂 𝓲𝓷𝓽𝓸 𝔂𝓸𝓾𝓻 𝓛𝓲𝓯𝓮? 𝓣𝓸 𝔀𝓮𝓵𝓬𝓸𝓶𝓮 𝓽𝓱𝓮 𝓲𝓷𝓯𝓲𝓷𝓲𝓽𝓮 𝓷𝓮𝔀?!
*
During this special time, the veils between our physical world and the spirit world are thin.
A time to strengthen our intuition and connect to the Divine, the eternal flame within.
We will call in the energy of the Goddesses connected with Samhain
* Oya ~ Goddess of Transformation: Death & Rebirth
* Hecate ~ Goddess of Magick: Mother of all Witches
* Lilith ~ the Inner Wild Woman: Sensuality & Power
*
This day you will celebrate, receive & share in …
*
*Opening into the Sacred Space
*Deeply relaxing into Being
*Sister Sharing & Connection Circle
*Dance Ritual sessions in sensuality, transformation & Goddess inbodiment
*Ancestor Altar & Ritual
*Creative Ritual
*Womb Ritual ~ Rite of the Womb – 13th Munay-Ki rite*
*Fire Ritual closing
*
𝓪 𝓳𝓸𝓾𝓻𝓷𝓮𝔂 𝓲𝓷
* breathing * moving * dancing * softening * celebrating * sounding * singing * connecting * liberating * inbodying * honoring * injoying * remembering * ~~ beyond ~~
*
We will celebrate in abundance & gratitude
nourishing our beautiful Temple Body with homemade Pumpkin soup, Tasty Healthy sweets & Fresh Herbal teas
*
* 𝘙𝘪𝘵𝘦 𝘰𝘧 𝘵𝘩𝘦 𝘞𝘰𝘮𝘣 – 13𝘵𝘩 𝘔𝘶𝘯𝘢𝘺-𝘒𝘪 𝘳𝘪𝘵𝘦
𝘛𝘩𝘦 𝘳𝘪𝘵𝘦 𝘰𝘧 𝘵𝘩𝘦 𝘞𝘰𝘮𝘣 𝘪𝘴 𝘢 𝘷𝘦𝘳𝘺 𝘱𝘰𝘸𝘦𝘳𝘧𝘶𝘭 𝘭𝘰𝘷𝘪𝘯𝘨 𝘦𝘯𝘦𝘳𝘨𝘺 𝘵𝘳𝘢𝘯𝘴𝘮𝘪𝘴𝘴𝘪𝘰𝘯 𝘵𝘩𝘢𝘵 𝘸𝘪𝘭𝘭 𝘳𝘦𝘴𝘵𝘰𝘳𝘦 𝘵𝘩𝘦 𝘯𝘢𝘵𝘶𝘳𝘢𝘭 𝘣𝘢𝘭𝘢𝘯𝘤𝘦 𝘰𝘧 𝘺𝘰𝘶𝘳 𝘤𝘳𝘦𝘢𝘵𝘪𝘷𝘦 𝘤𝘦𝘯𝘵𝘦𝘳. 𝘛𝘩𝘦 𝘙𝘪𝘵𝘦 𝘰𝘧 𝘵𝘩𝘦 𝘞𝘰𝘮𝘣 𝘪𝘴 𝘢 𝘣𝘭𝘦𝘴𝘴𝘪𝘯𝘨 𝘰𝘧 𝘵𝘩𝘦 𝘞𝘰𝘮𝘣, 𝘰𝘶𝘳 𝘴𝘢𝘤𝘳𝘦𝘥 𝘱𝘭𝘢𝘤𝘦 𝘰𝘧 𝘤𝘳𝘦𝘢𝘵𝘪𝘰𝘯. 𝘛𝘩𝘪𝘴 𝘭𝘪𝘯𝘦𝘢𝘨𝘦 𝘰𝘧 𝘸𝘰𝘮𝘦𝘯, 𝘵𝘩𝘳𝘰𝘶𝘨𝘩 𝘵𝘩𝘦 𝘫𝘶𝘯𝘨𝘭𝘦 𝘮𝘦𝘥𝘪𝘤𝘪𝘯𝘦, 𝘩𝘢𝘴 𝘨𝘪𝘷𝘦𝘯 𝘶𝘴 𝘵𝘩𝘦 13𝘵𝘩 𝘳𝘪𝘵𝘦 𝘰𝘧 𝘵𝘩𝘦 𝘔𝘶𝘯𝘢𝘺-𝘒𝘪: 𝘛𝘩𝘦 𝘙𝘪𝘵𝘦 𝘰𝘧 𝘵𝘩𝘦 𝘞𝘰𝘮𝘣. 𝘖𝘯𝘤𝘦 𝘺𝘰𝘶 𝘳𝘦𝘤𝘦𝘪𝘷𝘦 𝘪𝘵, 𝘺𝘰𝘶 𝘴𝘩𝘢𝘳𝘦 𝘪𝘵 𝘸𝘪𝘵𝘩 𝘢𝘴 𝘮𝘢𝘯𝘺 𝘸𝘰𝘮𝘦𝘯 𝘢𝘴 𝘱𝘰𝘴𝘴𝘪𝘣𝘭𝘦. 𝘛𝘩𝘦 𝘙𝘪𝘵𝘦 𝘰𝘧 𝘵𝘩𝘦 𝘞𝘰𝘮𝘣, 13𝘵𝘩 𝘙𝘪𝘵𝘦 𝘰𝘧 𝘵𝘩𝘦 𝘔𝘶𝘯𝘢𝘺-𝘒𝘪, 𝘪𝘴 𝘢 𝘤𝘰𝘯𝘵𝘦𝘮𝘱𝘰𝘳𝘢𝘳𝘺 𝘳𝘪𝘵𝘶𝘢𝘭, 𝘣𝘪𝘳𝘵𝘩𝘦𝘥 𝘪𝘯𝘵𝘰 𝘣𝘦𝘪𝘯𝘨 𝘣𝘺 𝘔𝘢𝘳𝘤𝘦𝘭𝘢 𝘓𝘰𝘣𝘰𝘴, 𝘢 𝘮𝘦𝘥𝘪𝘤𝘪𝘯𝘦 𝘸𝘰𝘮𝘢𝘯 𝘪𝘯𝘪𝘵𝘪𝘢𝘵𝘦𝘥 𝘪𝘯 𝘵𝘩𝘦 𝘩𝘦𝘢𝘭𝘪𝘯𝘨 𝘢𝘯𝘥 𝘴𝘱𝘪𝘳𝘪𝘵𝘶𝘢𝘭 𝘵𝘳𝘢𝘥𝘪𝘵𝘪𝘰𝘯𝘴 𝘰𝘧 𝘵𝘩𝘦 𝘈𝘮𝘢𝘻𝘰𝘯 𝘢𝘯𝘥 𝘵𝘩𝘦 𝘈𝘯𝘥𝘦𝘴.
~ * ~ * ~ * ~ * ~ * ~ * ~ * ~ * ~ * ~ * ~ * ~ * ~
Praktisch 
* Je magische investering
77 euro
sister tickets: 133 euro (2 tickets)
*
* Vooraf inschrijven!
We zijn met max. 10 vrouwen, om een intieme & verbindende middag te creëren.
De laatste 2 plaatsen zijn beschikbaar! (daarna is er inschrijving mogelijk voor de wachtlijst)
Je reserveert jouw sacred magickal space door een mail te sturen
naar marjon@dansdoorhetleven.com
*
* Locatie * The Goddess Sacred Temple
De Samhain viering houden we bij de Clinch in Clinge (Nederland)
Een prachtige danstempel & free spirit plek
*
* Tijd welkom & afsluiting
Je bent welkom tussen 13 & 13.13 uur om aan te komen & je voor te bereiden.
Graag deze tijd respecteren voor jezelf en de andere vrouwen.
We starten stipt om 13.30 uur met de openingsceremonie.
We sluiten de middag af om 18 uur.
*
* Verdere info
Na je inschrijving ontvang je verdere info over wat mee te brengen voor het voorouderaltaar,
over de kleding voor deze viering & meer..
*
𝓦𝓮 𝓿𝓮𝓻𝔀𝓮𝓵𝓴𝓸𝓶𝓮𝓷 𝓳𝓮 𝓰𝓻𝓪𝓪𝓰
in vreugde, vrijheid & verbinding
in de kracht & magie van vrouwen samen
*
veel liefs