Wanneer:
21 mei 2023 @ 11:11 – 13:13
2023-05-21T11:11:00+02:00
2023-05-21T13:13:00+02:00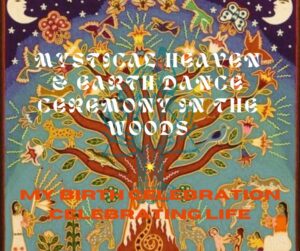 ❤ dear Brothers & Sisters ❤ Gods & Goddesses
welcome at a powerful & beautiful temple in the Woods in the Magick of Nature
to connect with  your Inner Temple Of Mystery & Magick
a Heaven & Earth dance ceremony ❤ transforming, rechargin, rebirthing.. with the energy of the New Moon in Sensual Earthy Taurus
in tune with Mother Earth & the Universe,
barefoot dancing between the Birch trees or in the soft grass receiving the golden light of the Sun
ceremony & ritual dance ❤ celebrating Life ❤ sharing Happiness Love & Divinity
with beautiful music taking you on a mystical earth  & heaven journey
in flow with the rhythms of Mother Nature, grounding in and embodying the new Earth ~ Heaven energy.
we will start with a welcome ritual, deep silence & slowly awakening into movement
ending ritual on the earth floor, with silence  &  sounding (voice & mantra)
this dance is also my Birth (May 18) Celebration dance – Taurus sign ❤ Venus & Earth
my passion & mission in this divine earth life.. sharing with you ❤
sharing cakes & herbal teas to enjoy after the dance
our dance as meditation
our movement as medicine
our body as temple
~* ~* ~* ~* ~* ~* ~* ~* ~* ~* ~
dus…
❤  welkom!!
zondag 21 mei 11 uur
we starten om 11.11 uur
de locatie:
een magisch krachtplek in een privé bos (gemakkelijk bereikbaar en gemakkelijk te vinden)
je ontvangt precieze info na je inschrijving
in de buurt van Hulst
bijdrage:
special ❤ energy exchange:
vrije bijdrage: vanaf 22 euro
(indien low budget, mail me voor info)
inbegrepen:
dance~ceremony
verse kruidenthee & taart!
meenemen:
sacred symbols voor het altaar
flesje water
muziekinstrumenten
evt. deken voor de momenten van verstilling
❤ welkom!!!
veel liefs Marjon