Wanneer:
10 juli 2022 @ 10:44 – 12:44
2022-07-10T10:44:00+02:00
2022-07-10T12:44:00+02:00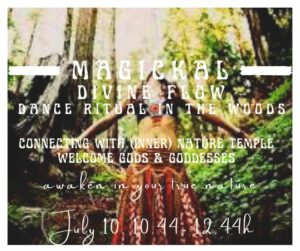 ********************** 𝕔𝕠𝕞𝕚𝕟𝕘 𝕊𝕦𝕟𝕕𝕒𝕪 𝕁𝕦𝕝𝕪 𝟙𝟘 ************************
𝓽𝓱𝓮 𝓯𝓲𝓻𝓼𝓽 DIVINE FLOW 𝓓𝓐𝓝𝓒𝓔 𝓻𝓲𝓽𝓾𝓪𝓵 𝓲𝓷 𝓽𝓱𝓮 𝓦𝓸𝓸𝓭𝓼
𝚊 𝚖𝚊𝚐𝚒𝚌𝚔𝚊𝚕 𝚎𝚡𝚙𝚎𝚛𝚒𝚎𝚗𝚌𝚒𝚎 * 𝚙𝚘𝚠𝚎𝚛𝚏𝚞𝚕 * 𝚑𝚎𝚊𝚕𝚒𝚗𝚐 * 𝚜𝚎𝚗𝚜𝚎~𝚊𝚝𝚒𝚘𝚗𝚊𝚕
𝖎𝖓 𝖆 𝖒𝖆𝖌𝖎𝖈𝖐𝖆𝖑 𝖕𝖑𝖆𝖈𝖊 𝖎𝖓 𝖙𝖍𝖊 𝖙𝖊𝖒𝖕𝖑𝖊 𝖔𝖋 𝖓𝖆𝖙𝖚𝖗𝖊
** your movement is meditation **
slowing down, fully awakening your body & breath, total relaxing, freeing,  inner silence, inner peace, pleasure, your body's self-healing power, joy, sensuality, connection, wisdom, love, light, true nature, divinty, the earth, the universe.. magick & mystery.. a transformation ~ rebirthing
experience the magick of slowing down in your dance, your movements
a slow dance with nature
your body finding its own rhythm, divine flow, surrendering to the mystery.. breathing.. sounding..
welcome to soften on the earth, to ground in your body, to flow like water between the holy Birch trees, moving slowly like a snake in space …
letting the magick happen…
with beautiful music to guide you
with ritual to connect with the sacred
*~*~* ~*~
Practical..
 welcome to bring with you
**symbols from nature, crystals, light objects, flowers… for the altar
**water, cup for the tea
**wear clothes (layers) in which you feel & move freely
*
The place of dance:
near Hulst (info at your registration)
we will go into a silent beautiful & powerful place in the woods. a place where we can dance barefoot on the soft earth
between the holy magical rising birch trees & open grass field
*
Time:
welcome at 10.44h
we will start with the welcome ritual at 11h
ending together at around 12.30h with sitting on the soft earth floor, nourishing herbal tea
*
Energetic investment:
20 euro – payment in advance  to reserve your beautiful sacred place
23 euro at the day of the dance (if still places available)
possible to buy combi-ticket (+ full moon dance July 13)
*
Registration on beforehand (max nr of spaces at our beautiful space in the woods!)
min 5 – max 13 dancers
send me a mail (marjon@dansdoorhetleven.com) or pm to join!
you will then receive further info
*
love & light
Marjon
welcome!!