Wanneer:
6 november 2022 @ 11:00 – 13:00
2022-11-06T11:00:00+01:00
2022-11-06T13:00:00+01:00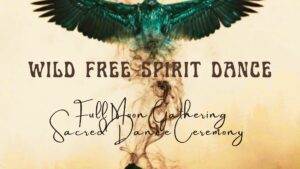 Welcome all sisters & brothers to come together in a sacred magickal space to DANCE!!
into our Inner Magick * our inner Universe * into our true Nature * into our Being
where we are fully ALive, Wild & Free, Grounded, Divine, Love, Light and Joy
@ the Full Blood Moon Eclipse Energy
*
A Magickal Sacred dance ceremony to Remember Who YOU Truely Are
Your beautiful Temple body soft & open~ Deeply connected with Mother Earth ~ The Universe ~ Slowing Down ~ surrendering to your place of Silence, the place of Magick.. open in all that wants to be alive, to flow, liberate
Your dance arising, your energy flowing freely
Surrendering to wonderful music taking you on a journey
Celebrating your divine being of light & love, your wild & free shamanic nature, your inner magick & mysteries
*
A dance poetry ~ expanding in who you truely are ~ a journey of Freedom & Infinte Joy ~ awakening Your Sensual Wild Animal Body
*
Our Movement is our Meditation
Our Dance is our Medicine
Our Body is our Temple
We are the Universe, we are Nature
*
we dance, we move, we sound & sing, we surrender, we expand, we connect, we liberate, we play, we breathe…
with sacred ritual dance, magickal conscious dance journey ~ moving free, divine & abundant ~ ceremony, singing & music circle
*
At the time of the Full Moon, we expand, we celebrate our Fullness. We are deeply connected with the mooncycles.
This Full Moon eclipse is connected with the sensual Taurus, the grounding earth element. The Sun Scorpio, the deep water element.
*
Please bring with you:
sacred symbols for the altar
music instruments
bottle of water
*
Location: theaterzaal den Dullaert, Sportlaan 25, Hulst
A beautiful space of dance, with wooden floor, red velvet curtains..
*
Investment:
25 euro
Registration on beforehand!
And safe your sacred magickal spot 
mail: marjon@dansdoorhetleven.com
*
a wonderful welcome 
love Marjon
let's dance & celebrate the sacred & magick of life
into the new earth