Wanneer:
21 juni 2022 @ 19:30 – 21:30
2022-06-21T19:30:00+02:00
2022-06-21T21:30:00+02:00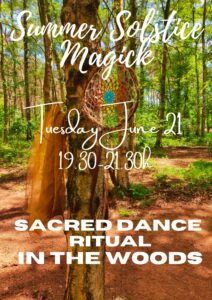 dinsdag 21 juni, welkom 19.30 uur
op de dag/avond van de ZomerZonnewende
MidZomer
een magisch dansritueel in het bos
dinsdag 21 juni, welkom 19.30 uur
om 19.44 uur starten we met het *Sacred Earth Solstice* ritueel
we dansen tot 21.30 uur
daarna kun je zo lang blijven als je wilt op het plekje in het bos
het plekje: een magische cirkel in het bos tussen de Berkenbomen, in de buurt van Hulst
energetische vrije bijdrage vanaf 17 euro
inschrijven
stuur me een mail marjon@dansdoorhetleven.com of een PB
(max aantal)
je ontvangt dan alle verdere info!
graag meenemen alvast:
sacred power symbols om de ZomerZonnewende te vieren
flesje water
deken/handdoek
je blote voeten
welkom
'Our ancestors, who were much more connected to the Earth, knew the Solstice was a highly potent and magical time. Many monuments around the world were built to align with the Sun on the day of the Solstice. Rituals, festivals, and offerings were also conducted leading up to this special day.
It is said that the Solstice brings a thinning of the veil, allowing the world of Spirit and the world of the material to feel far less separate. It is also said that on the Solstice eve, the entire energy grid of the planet moves into harmony, allowing us to connect with Spirit with greater ease and the healing power of Mother Earth.
One of the best ways to feel this energy for yourself is to spend time in nature on the Solstice eve or day of the Solstice.' ~ Forever Conscious
so.. let's come together and open into this magick & power
in the Woods, Temple in Nature
love & light * Marjon