♥ Temptation! Sensual & Zensual ♥
zaterdag, 15 februari, 15 - 21.30h
Eat ♥ Dance ♥ Love
Opening your Heart, nurturing your Body & Soul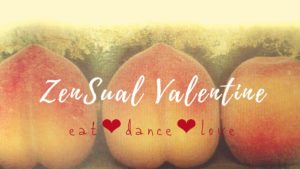 We nodigen jullie uit om de Liefde te vieren!
Liefde die door de maag gaat, Liefde voor de dans, Liefde voor muziek. Liefde die ons voedt in hart, hoofd in nieren; in ons wezen en in ons mens-zijn. Liefde voor onszelf en voor elkaar.
Liefde voor het Leven!

Eten en ademen, eten en zingen, eten en klank. Voor Bo is het onlosmakelijk met elkaar verbonden. Gerechten creëert ze procesmatig, soms al dansend en grappend, met muziek aan. Soms in heerlijke stilte, zoals tijdens de vele vipassana retraites waarvoor ze kookte. Steeds gefocust snijdend, vijzelend, raspend,...
Vooraleer we de keuken induiken, maken we onze lippen, tong en stem los. Om beter te kunnen proeven, om elkaar verhalen over de Liefde te kunnen vertellen, om stilte en focus te savoureren.
We creëren een Zensuele Valentijnstafel. Pure smaken, verrassende combinaties, toveren met een druppeltje zuiver etherische olie en specerijen,... Je proeft, vijzelt, schilt en raspt, verrast jezelf ... tot we samen een tafel vol lekkers klaar hebben en samen de voetjes onder tafel schuiven! Ondertussen vertel ik je wat meer over de ingrediënten en de magische liefdeskrachten die hen werden/worden toegedicht.
Dans is passie, plezier, je vrij voelen.. verbinden met jouw ware zijn & elkaar.. Marjon is een passionele danser, die ruimte creëert om te zijn, je unieke dans te dansen, te genieten en verbinden..
Marjon neemt je mee in een wervelende sensuele dans!
Laat je verleiden door de muziek terwijl je dieper duikt in het bewegen van je lichaam ... Een langzame dans, elke beweging voelend in zijn volheid ... Ontwakend in de ruimte van overgave, plezier en magie. Voel het geschenk van je lichaam, de sensaties van de beweging. Ontspannen, ademen, je hart openen, je lichaam en ziel hun authentieke dans laten vinden. Elkaar ontmoeten in de 'dance of love' ♥
We sluiten de dag af met een KlankReis door Bo & Jeroen, zodat je lekker gevoed, ontspannen en rozig naar bed kan! Jeroen & Bo creëren een magische sfeer met hun muziek. Etnische instrumenten, handpan, zang, hartverwarmende geuren. Je gaat op reis, naar allerlei landen, sferen en bovenal: naar jezelf!
♥ Voor wie
iedereen welkom!
je kunt alleen komen of samen ♥
Single lovers ♥ Double lovers
♥ Bijdrage
Early bird t.e.m. zaterdag 8 februari
60€
55€ voor koppels of leden van hetzelfde gezin
Vanaf zondag 9 februari: 65€
♥ Wat ontvang je
Korte stembevrijdingsworkshop
Vegetarische Valentijnstafel, incl alle ingrediënten, bronwater, gearomatiseerd water en thee
Danssessie
SoundJourney
En een heerlijke ontspannende dag!
♥ De locatie
We genieten van dans, samen eten, soundjourney.. in een prachtige zaal, met fluwelen gordijnen, zachte houten vloer,
warme verlichting..
We bereiden de Valentijnstafel samen in de overvloedige keuken
van Centrum Malpertuus, Malpertuuslaan 6, Clinge (Nederland - op 1 min. van België)
♥ Je mag je inschrijven bij Marjon:
marjon@dansdoorhetleven.com
Hartegroet
Marjon, Bo & Jeroen
Verbinden met je innerlijke stilte, je hart & ziel. Verbinden vanuit je hart met de ander. In een sacred space. In alle veiligheid, met
respect voor jezelf en elkaar. Verbindend zijn. Verbonden zijn.
♥ I can resist anything but temptation. -Oscar Wilde ♥