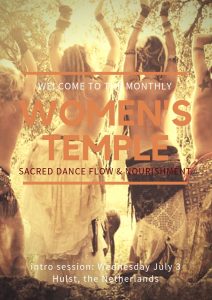 Wednesday, July 3, 19.45-21.45h ♥
The temple door is open from 19.30h
english below
Mooie vrouw,
Welkom in deze introductiesessie van een prachtige tempel van 'Sacred Dance Flow & Nourishment'. Een vrouwelijke oase waar we meegaan in de flow, we verbinden met ons eigen lichaam en elkaar. Een voedende ruimte om in te ontspannen en zijn.
Een heilige en echte manier van samenkomen; in de tempel zijn van vrouwelijke flow. Hier tunen we in op de ruimte van No-mind, door verbinding te maken met ons EIGEN LICHAAM en ELKAAR, een echte & voedende ruimte om in het vrouwelijke hart te smelten.
Tijdens de Vrouwentempel zullen we diep met ons lichaam en ziel verbinden. Door middel van dansen, ademen, bewegen, aanraken, stretchen, verbinden, vrije beweging, tempeloefeningen & meer. Met prachtige inspirerende muziek.
Een veilige ruimte om het volledige spectrum van onze vrouwelijke geschenken te vergroten en tot expressie te brengen; een co-creatie.
Het belangrijkste doel van de tempel is om ruimte te geven aan een volledig bloeiende vrouw, die de liefde belichaamt, wat haar diepste essentie is. Het geschenk van de tempelgroep aan de wereld is het toelaten, geboorte geven en omhelzen van een volledig tot expressie gebrachte, goddelijke, vrouwelijke essentie.
Vrouwen~tempelavonden zullen ongeveer eenmaal per maand worden georganiseerd. Je kunt hieraan meedoen per sessie. Graag altijd vooraf laten weten als je komt!
♥ ♥
Dear Sister,
We welcome you into this first session of an amazing temple..
We are exploring a sacred and real way of gathering together, being in 'the temple of feminine flow'. Here we tap into the space of No-mind through connecting with our OWN bodies and EACHOTHER, a truly nourishing space to melt into for the feminine heart. Together we are creating a feminine oasis where we can let go into the flow happening deeper than our personal stories..
A safe and juicy space for us all to expand and express the full spectrum of our feminine gifts, co-crreate as we go.
During the Women's temple, we will enter deeply into our bodies and soul. Through dance, breathing, moving, touching, stretching, connecting,free flow of movement, temple practices & beyond
The higher purpose of the Temple is to support a whole, healthy and fully flowering woman that embodies the love that is her deepest essence. The gift of the Temple group to the world is the allowing, embracing and giving birth to a fully expressed, divine, feminine essence.
We will gather for this Women's Temple night once per month.
***Practical
Date: Wednesday, July 3, 19.45-21.45h ♥ The temple door is open from 19.30h.
Location: Cultureel Centrum den Dullaert, Sportlaan 24, Hulst
Beautiful space, wooden floor,
Investment: 20 euro (for social income: special investment possible, please contact me)
***Registration:
Please let me know if you want to come and feel yourself and other women as radiant divine essence, in a vibrantly alive body.
Mail me: marjon@dansdoorhetleven.com
***What to bring:
clothes in which you feel comfortable & beautiful
bottle of water
blanket(s), cloths
anything you might need
symbol for the altar, a gift from nature (wild flower, stone,....)
If you have any questions, please do let me know!
It would be wonderful to share this with other woman you know! Thank you!
A warm & loving welcome
Marjon
Holistic dance teacher
Sacred Feminine Dance
***TEMPLE PRACTICES
The Temple practices are designed by women for women, they are a spiritual practice that embraces and enhances our feminine nature. In this embrancing of our feminine nature we are restoring a natural balance between the masculine and the feiminine with ourselves and in the world.
A taste of Temple Group practices.
Enter deeper into our divine female bodies, our hips through dance, stretching, free flow of movement. Becoming one body of female divine essence through dance & movement, touch and spontaneous flow of the moment. This practice is to open our bodies to more of the divine feminine energy and receive nourishment from each other, strenghening, relaxing, healing.
Seeing deeply into each other, seeing each woman's beauty, gifts, most true expression, essence, soul colors and loving each flavor of the divine feminine. Sharing what we see in each woman.
Pleasure as a way to precense. Women are made for pleasure and we enjoy that through smelling incredible flowers, rubbing on yummy oils or other fun, juicy ways we can think of.
Feeling all the way to essence, allowing expression of how deeply we feel, being in a free flow of precence with each other, sharing our emotions through bodily and voice expression and creating beauty through that.
Sharing our gifts in the circle.
Embodying the diferent aspects of the divine feminine, like Kali, Tara, the Mother, Aphrodite etc. Supporting each other in expressing qualities we may hide.
Prayer & gratitude, allowing and opening up to our deepest devotion.
***Testimonials:
Marjon, bedankt voor jouw begeleiding doorheen de chakra's, voor jouw warme pure energie, jouw zorg-dragen en jouw mooie jij. De reis zorgde voor meer harmonie, meer toekomen in mijn lichaam, het bracht me nog meer voeling met wie ik echt ben. Soms was het best intens en confronterend maar het beklimmen van die berg maakt me enkel sterker! De energie die er heerste in samenspel met de muziek bracht me een warm en vreugdevol gevoel...het toverde me een deugddoende glimlach Namasté Rita Galle
'Wauw wat een bijzondere middag! Waarbij mijn kracht en kwetsbaarheid samen zijn gekomen en ik door te dansen allebei heb kunnen omarmen. Ik ga met een frisse blik en een nieuwe dosis zelfvertrouwen mijn nieuwe jaar tegemoet 🙂 Dankje Marjon voor jouw kracht en warmte deze middag.' Liefs, Anouk
'De medicine woman reeks was als een reis. Eerst gaan je lichaam en geest zich aanpassen, daarna lijkt het alsof je herboren wordt.' Peggy
'Hallo lieve mooie vrouw. Dank dat ik dankzij jouw mooie inspirerende lessen, zoveel fijne vrouwelijke energie kan en mag beleven. Zoveel liefde en zachte kracht mag ontvangen. En toch heel krachtig in mijn lichaam zijn.' Liefs Monique xx
'Vooral heerlijk dansen. Tijd voor jezelf. Ontspanning. Stilstaan bij je vrouwelijke kracht en deze er meer laten zijn, dat kan bij mij geen kwaad ;). Daardoor komt er meer balans tussen de mannelijke en vrouwelijke kant in mij. Aandacht om met intenties te dansen, dat werkt voor mij erg goed om ze krachtig neer te zetten.'
''Echt een aanrader, lieve vrouwen. de vorige keren waren zo fijn, zacht, kwetsbaar, krachtig, ... En je hoeft helemaal geen danservaring te hebben; enkel in je lijfje en hart duiken en die dansen als vanzelf in jou met de muziek'
'Met dank aan jouw initiatief en begeleiding in de dans, voel ik mij aangespoord mezelf opnieuw te verbinden met mezelf, mezelf te voelen van binnenuit, mij te verbinden met dat in mij wat verder mag ontwaken, meer mag aarden, transformeren, en gezien, gevoeld en geleefd mag worden, mag worden omarmd. In mijn dans ben ik volledig Mij, kan ik VOLledig ZIJN, in mijn dans ben ik vrij. Ik mocht deze vorm van zelf expressie mij opnieuw toe-eigenen, deze manier van ruimte innemen en vrijheid ervaren opnieuw verwelkomen in mijn leven. Ik voel me hier dankbaar voor, ik voel me gezegend. Ik kwam jou precies op het juiste moment tegen in mijn leven!'