zaterdag 29 september, 20 – 21.30 uur
zondag 7 oktober, 11 -12.30 uur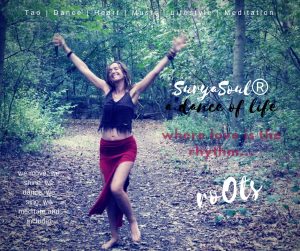 Would you love to go on a new journey of conscious dance and free dance?
SuryaSoul® is a conscious alive dance, movement and meditation journey, based on the theory of the 7 chakra's,
the filosofies of TAO & yoga. With dynamic and soft rhythms, melodies from the whole world.
With these two extra introduction/experimental sessions I am very happy inviting you,
to go on a new journey of dance with me: SuryaSoul®
We start with an easy choreography, dancing body mudras, awakening movement and rooting in your body. We will then move fluently into an open dance journey. Letting your body & soul guide your movements. 
Pleasure is our guidance. Movement is the medicine.
We move, we shine, we dance, we sing, we meditate and include! 
Location
Theaterzaal den Dullaert, Sportlaan 24, Hulst (the Netherlands)
Beautiful space, wooden floor, free parking
Date/Time
Saturdaynight, 29 September, 20 - 21.30 uur
Sundaymorning, 7 October, 11 - 12.30 uur
Investment: special intro/experimental price
12 euro cash
10 euro cash for DansdoorhetLeven members (with strippen/lessenkaart/ aanZ member)
Register
please send a mail to marjon@dansdoorhetleven.com
For who?
Everyone is welcome! SuryaSoul® is an accessible Dance experience for all ages, abilities and experience levels
Please bring
clothes to move in easily
mat, water
a shining welcome! 
Marjon
SuryaSoul®DanceOfLife teacher
Nia® Certified Holistic Dance teacher
www.dansdoorhetleven.com
Hulst, the Netherlands
more info on SuryaSoul®
Tao | Dance | Yoga | Heart | Music | Lifestyle | Meditation 
The dance of 27+1 Body Mudra's (ritual gestures)
SuryaSoul® is a conscious embodied Dance & Meditation Lifestyle Practice 
SuryaSoul® is based on the Chakra system (=the 7 energy centers) 
integrates the ancient foundations and life philosophies of Tao and Yoga
includes inspiring rhythms and music tunes from all around the world
SuryaSoul® is a gateway to the mysteries of life 
SuryaSoul® creates an effective system for health and growth
Every class or session is based on a specific map, leading the journey through one or more chakras.
Chakra related movements, music, visualizations and meditations will support our development towards a healthier and more fulfilled life through the body and soul. 
Let the Dance Of Life with the rainbow colors of the Chakras become our human path to let our soul shine into the world. 
The healing combination of Sound and Movement will bring focused clarity to the mind and energized relief to the body.
A movement for peace, health, joy, success, healing, love, well being and creativity to manifest our unique and common true essence in the world.
Dancing together in a SuryaSoul® class has nothing to do with the way we look, and everything to do with the way we feel! 
creators of SuryaSoul®: Philippe Beaufour & Sabine Zweig
www.dancersoflife.com