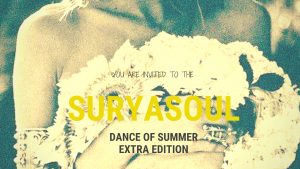 July 7, 10.45 - 12.15h
Den Dullaert, Hulst
SUNdaymorning dance - a JOYful Awakening Dance
A beautiful journey of your body & soul. Balancing your energy centers (chakra's). Amazing dance & music. Welcome all bodies & souls to join. DANCE & FLOWER into your true nature. No experience needed
We move, we shine, we dance, we sing, we meditate and include!
THE DANCE JOURNEY
SuryaSoul® - a Dance Of Life - is a worldwide conscious embodied Dance, Movement & Meditation practice based on the Chakra system (the 7 energy centers) and the Tao & Integral Yoga philosophies. It includes inspiring rhythms and music from all genres. SuryaSoul® (surya=sun in sanskrit) creates an effective system for health and growth. It is an open invitation to every Body & Soul. In the Dance we discover our hidden wild nature, to feel alive and strong, to manifest both our feminine and masculine energies. We meet our own inner wisdom and shine like the sun.
We dance in a circle - the dance is based on 28 body mudras, with space for your 'own' dance.
From there we will dance our own & collective dance poetry. Moving freely through the space, guided by spirit mudra's
This extra session we will dance & celebrate all chakra's. A flowering dance ♥
"Find ecstasy within yourself. It is not out there. It is in your innermost flowering. The one you are looking for is you." ~ Osho
WHY WE DANCE
To connect & be with our true self. We dance to remember who we truely are, to connect with our joy and innate wisdom, to awaken & root in our body & life. To find joy, freedom & infinity. Dancing is an expression of the soul. Movement is your Medicine.
Location
Cultureel Centrum den Dullaert, Theaterzaal
Sportlaan 24, Hulst (the Netherlands)
Beautiful space, wooden floor, free parking
Date/Time
Sundaymorning, July 7, 10.45 - 12.15h
Investment
16 euro per sessie
14 euro cash for DansdoorhetLeven members (valid strippen/lessenkaart/ aanZ member)
Register
please send a mail to marjon@dansdoorhetleven.com
For who?
Everyone is welcome! This is a dance experience for all ages, abilities and experience levels. Men & Women ♥
Please bring
clothes to move in easily,
beautiful flower, candle & symbol for the altar
(yogamats are available in the space)
Invite & bring your friends!
a shining welcome ♥
Marjon
SuryaSoul®DanceOfSoma&Spirit teacher
Nia® Certified Holistic Dance teacher