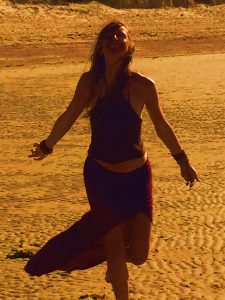 A CONSCIOUS JOYFUL DANCE
AWAKE YOUR BODY MIND & SOUL
BRESKENS BEACH
ZONDAG 8 JULI, DINSDAG 10 JULI, ZONDAG 15 JULI
10.15 - 11.30 UUR
Dancing by the Sea with your bare feet on the beach
Dansen aan Zee met je blote voeten op het strand
It's amazing to dance with the waves, the sand, the water, the sun, the wind.. <3
Giving you deep relaxation, energy, fully breathing, feeling happy & alive
A flowing cycle of concsious & joyful moving your body, mind and soul
using form (very easy choreography) and freedom (free movement following your body's way)
Nia® inspired <3 soul stirring amazing music & sacred moves.
With the intention of awakening your body & soul.
We will be moving through 7 cycles.. including warming up, get moving, cooling down and
relaxing on the beachfloor.
voor 3 sessies: 25 euro (te betalen bij de eerste sessie)
Locatie: Grote Strand bij Breskens.
Parkeren op de gratis parking bij Centrum Qi, Veerhaven 3, Breskens (links van Qi richting strand lopen, ong. 500 mtr.)
Wil je samen vertrekken vanaf Qi, dan graag vóór 10.30 uur daar zijn
Of.. bij Strandpaviljoen t Halve Maentje, Nieuwesluisweg 44, Breskens het strand opgaan, en dan naar rechts lopen (ong 800 mtr.)
Make it your most beautiful days on the beach <3
Treat yourself with a lovely swim after dance <3