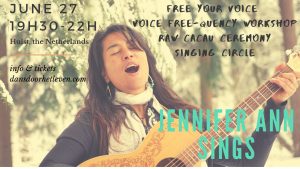 Free your Voice
Workshop with Jennifer Ann
Thursday June 27, 19.30 – 22h
We are very happy to invite you to a special evening with Jennifer Ann: FREE YOUR VOICE
PROGRAM
*Cacao ceremony
*VOICE FREE-QUENCY WORKSHOP
*Singing circle
No experience is needed.
Jennifer Ann is an Award Winning Musician, Yoga & breath Therapist, Yoga teacher, World traveler and Entrepeneur. She has devoted over 12 years of her life to conscious living, teachings including spiritual and personal development. Jennifer Ann is a medicine She is a singer songwriter from Holland/USA with her roots in mantra and medicine music. Her voice is soulful and warm and her fans describe it as a mothers embrace.
With her search for the medicine and healing powers within music. She follows the traditions of mantra chanting and tribal ceremonial music. This is the groundwork for her original songs that she is now birthing into the world. These new songs are a fusion of tribal music and folk/singer-songwriter blended together as prayers for a better world.
She is a humble, gentle yet a very strong facilitator and entering her sacred workshop space can be a life changing experience, so be ready to dive right in. More info: www.jenniferannsings.com
RAW CACAO CEREMONY
Through a very special way of brewing the (raw)cacao, Jennifer Ann has found a way to balance her feminine strength and direction into creating a safespace to journey into the self, with a little help of the Cacao Gods and Goddesses. She weaves prayer, meditation, breathwork, music, dance, and all of her talents together in a natural and fun way. Cacao is a safe and non-psychedelic substance, with many healing powers for body, soul, and mind.
Jennifer Ann has become a well known female ceremony leader and has joined and lead ceremonies globally. Her main medicine plant has become the sacred plant of the cacao; a tradition derived from Mayan and Aztec cultures and that has quite recently found its way back into society.
VOICE FREE_QUENCY
Connect to the true essence of our natural sound and voice. We will learn how to let the voice carry our soul. Freeing the voice can be the best gift you will ever receive.
The voice is the most healing tool Jennifer Ann has ever discovered in her life. She is very happy to guide people back to the essence of their personal sound and allow them to (re)discover the joy and fun the expression of their true and natural voice contains. She uses tools like breath exercises, bodywork, yoga, voice tools, chanting, singing, songs, rhythms and more. She weaves all of her knowledge together to guide you into a playful journey of discovering your true voice in a safe and uplifting way.
Liberating the voice heals trauma, releases any self-doubt, self-criticism, shame, and stuck creativity. It brings you back to divine alignment, connecting into source, and allows free expression to flow from that place.
SINGING CIRCLE:
Jennifer Ann started focussing on music, after she encountered mantra chanting during her first yoga training in 2010. She experienced such a profound healing and depth within chanting, that she knew she needed to follow the music. She noticed that it is such a great tool to quiet the mind and go within. It became her main medicine in her healing journey. Because of that she felt inspired to share this with other people and started to host singing/chanting circles. She has led many singing circles in yogic settings as well as in ceremonial context, festivals and workshops. She has led various groups for example children, adults and people with special needs.
With her warmth and welcoming energy people can drop into their core being instantly and rejoice with their voices to uplift themselves and others. It's liberating and joyous. A magical event to experience.
***Date & Location
date: 27 juni
Time: 19.30-22h
Location: Cultureel Centrum den Dullaert, Sportlaan 24, Hulst
***Tickets:
Presale (available till June 27, 17.30h): 30 euro
At door: 35 euro
buy your ticket
***Bring with you
bottle of water
comfortable clothes
cushion
If you have any questions, please contact me via marjon@dansdoorhetleven.com
a warm welcome ♥
Marjon
Marjon van Dorsselaer
Nia® cert. Blue Belt teacher
SuryaSoul®DanceOfSoma&Spirit teacher
Life's a dance
www.dansdoorhetleven.com