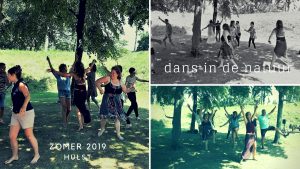 UPDATE 29/8 – volgende dansen buiten:
vrijdag 30 augustus van 10.30-11.45u: laatste vrijdag-dans buiten – onder de Lindebomen, Hulst
binnenlessen starten op 3 september in den Dullaert!
Welkom! bij de laatste dans in de natuur deze zomer op vrijdag!!
Let's dance, celebrate, connect & enJOY ♥
Dans in de vrije natuur. Met je blote voeten in het gras
in een magische krachtige cirkel van Lindebomen.
Mooie eenvoudige dans choreografie, vrije dans & inspirerende muziek ♥
Enter in the temple of your body. Move in loving ways. . Awaken to your own dance. ❤ Discover the JOY & POWER of connecting with your body ❤ Beautiful Choreo: Nia® inspired dance – body, mind, emotions & soul dance ❤ Free expressive movement
~ a beautiful dance of your body & soul ~
~ with the elements & gifts of nature ~
~ relaxing on the earthfloor ~
~ awakening & energizing all of you ~
Bijdrage: 10 euro
graag meenemen: handdoek & flesje water
Locatie: stuur me een berichtje of mail voor de precieze locatie (marjon@dansdoorhetleven.com)
Voor na de dans..kun je een drankje of iets lekkers meenemen om samen na te genieten ??? op een hippie picknick-kleedje onder de bomen..
Voor meer info over de dans: www.dansdoorhetleven.com
♥ welkom!
Marjon
Marjon van Dorsselaer
Nia® cert. Blue Belt teacher
SuryaSoul®DanceOfSoma&Spirit teacher
Life's a dance