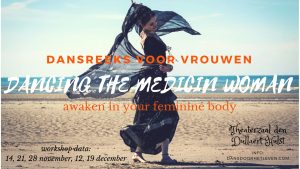 Are you longing to dance and express your feminine energy? to deeper connect with your wild & sacred woman?
Welcome to this Sacred Dance to honor, nurture & celebrate ♥
grounding in your feminine body ♥ remember who you are
a transforming journey
~ women only ~
scheduled dates: 28 november, 12 december, 19 december ~ 19.45 - 21 uur
(also possible to attend a separate session)
~ a meditative, nourishing movement experience ~
~ embrace and embody your intuitive self ~
~ accepting & grounding in your body ~ selflove ~ sensuality ~
~ discover the joy, beauty & strength of your body ~
~ release tension at the same time ~ 
We come to dance
A lively authentic dance to rejuvenate our bodies & spirits. We will focus on the energy centers of the body and natural elements. 
Nourishing movement to relax and free your body & mind
The dance will represent a bridge between the old ways and the new -- a gateway to recognize and affirm the sacred, the compassionate, the healing, the joyous elements of life & self. Through this balance we can achieve a greater harmony with the expansive, nurturing side of our nature. 
We will dance an easy choreography* with free dance expression & a free dance journey. Inviting you to dance your body's natural way & path. A sacred powerful dance experience for your body & soul ♥
* The choreo is Nia® inspired. Using movement as medicine. Utilizing rhythms of traditional South American instruments (pan flute, shaman drum) and other world tunes
Do you feel the call? Welcome to dance!
INSCHRIJVEN / INVESTERING
15 euro
Graag vooraf Inschrijven! mail: marjon@dansdoorhetleven.com
Betaling vooraf overschrijven naar bankrek.nr. IBAN NL08 ABNA 0445068523, t.n.v. M. van Dorsselaer. Of contant betalen 
LOCATIE
Theaterzaal den Dullaert. prachtige sfeervolle & ruime zaal, met houten vloer.
Sportlaan 24, Hulst (Nederland). Gratis parking!
MEENEMEN
flesje water, handdoek of matje
draag kleding waarin je gemakkelijk kunt bewegen; waar je je mooi in voelt. evt. laagjes
we dansen op blote voeten
DEELNAME
Vrouwen welkom! Je hebt geen ervaring in dans nodig. 
Je danst op de manier van jouw lichaam, jouw intensiteit. 
Vanaf 15 jaar.
Ken je nog vrouwen die genieten van dans en beweging, willen verdiepen in hun vrouwelijke essentie, body & soul?! Welkom om dit te delen! ♥ 
Een warm welkom
♥ Marjon
SuryaSoul®DanceOfLife teacher
Nia® Certified Holistic Dance teacher
Hulst, the Netherlands