Wanneer:
1 oktober 2022 @ 10:00 – 2 oktober 2022 @ 15:30
2022-10-01T10:00:00+02:00
2022-10-02T15:30:00+02:00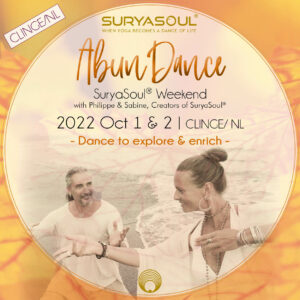 happy to welcome you!
Philippe & Sabine are coming back to Clinge/Hulst
to share an abundant weekend experience with us
in dance, meditation, being, exploring, enriching…
******
SuryaSoul® Weekend AbunDance
With Philippe & Sabine
Creators of SuryaSoul®
2022, October 1 & 2, Clinge (Hulst, the Netherlands)
******
– Explore and Enrich your Dance –
A Journey into Soul Artistry through the AbunDance of Dance & Meditation Practices
– open to everyone
https://www.suryasoul.com/
*
~ the agenda ~
Saturday, Oct 1
10.00 Arrival
10.30-12.30 Ritual and DanceOfSoma
12.30-14.00 shared Soulfood Potluck
14.00-15.30 SuryaSoul DanceOfHands
16.00-18.00 SuryaSoul DanceOfSpirit
18.30-20.30 shared Soulfood Dinner
Sunday, Oct 2
09.30-10.30 SuryaSoul DanceOfYoga
11.00-12.00 DanceOfMeditation
12.00-13.30 shared Soulfood Potluck
13.30-15.30 SuryaSoul DanceOfLife
Closing Ceremony
*
** if you will be able to only attend 1 day (or the Saturdaymorning workshop also possible to just participate) please mail me for possibilities/prices!!!
*
LOCATION
De Clinch' s Gravenstraat 53, Clinge, NL
A bohemian place where artists, creative & free people come together
With a large place of dance, grassfields, loft, sauna, indoor & outdoor kitchen…
*
COSTS
€ 175* (Earlybird until Sept 1) | € 195* (after Sept 1)
* 20% discount for students/jobless
*
REGISTRATION
Marjon van Dorsselaer, +31 114 321992
send me a mail marjon@dansdoorhetleven.com
you will receive info for payment upon receipt of your mail
*
Meals – Potluck
This year we choose to do an abundant sharing of food ~ the so-called POTLUCK
Vegetarian & Organic (preferably)
if you have further questions. please mail me!
*
STAYING OVERNIGHT
if you need info on possibilities for staying overnight please mail me:
marjon@dansdoorhetleven.com or send me a message!
*
looking forward to see you all at this wonderFUL weekend of AbunDANCE!!
*
 welcome!!!
Love Marjon
organizing for
Sabine & Philippe
are the creators of SuryaSoul®
www.suryasoul.com
*
They have been teaching and moving people worldwide since 2004 in workshops, retreat centers, festivals, congresses, trainings, hospitals, group and individual classes. Sabine has been living with a chronic lymphatic condition since birth which has required her to spend time in hospitals and clinics. Dance and medi- tation have become a healing journey for her after following the call of becoming an inspiration for many people through movement and dance events. She is also an architect and de- signer by profession. Philippe traveled to India when he was 28 years old to start a new life in Auroville, the international project on human unity created in 1968. Trained in Taoist martial arts, his vision is to connect these movement forms to music. They are living in Auroville, India and Europe for more than 24 years. Join their shining Love for the DanceOfLife.