Wanneer:
16 juli 2023 @ 13:00 – 17:00
2023-07-16T13:00:00+02:00
2023-07-16T17:00:00+02:00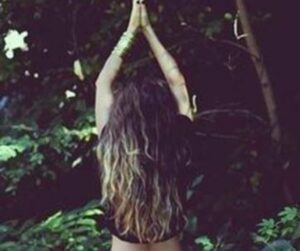 𝓡𝓮𝓽𝓾𝓻𝓷 𝓸𝓯 𝓽𝓱𝓮 𝓦𝓲𝓵𝓭 𝓦𝓸𝓶𝓪𝓷
*
She is deeply connected with Nature. She loves fiercely. She folows the path of her heart. She dances to the Rhythm of her Soul. She is deeply connected with her womb wisdom. She feels comfortable in her skin. She is in pleasure with her temple body. She speaks her truth. She knows her YES & her NO. She stands in her power. She walks the path of her Ancestors.
She is Wild, Free, Sensual & Divine. She is fully present & alive. She shines. 𝓢𝓱𝓮 𝓘𝓢 … 𝓪 𝓦𝓲𝓵𝓭 𝓦𝓸𝓶𝓪𝓷
*
𝓣𝓸𝓭𝓪𝔂 𝔀𝓮 𝔀𝓲𝓵𝓵
Remember her, Feel her, Love her, Nourish her, Move her, Dance her, Inbody her, Express her, Play with her, Rise Fully into Her, Celebrate Her 
With Rituals, Dance, Ceremony, Play, Connection in the Magick of Nature
*
𝔸𝕣𝕖 𝕪𝕠𝕦 𝕣𝕖𝕒𝕕𝕪 𝕗𝕠𝕣 𝕥𝕙𝕖 𝕛𝕠𝕦𝕣𝕟𝕖𝕪 𝕣𝕖𝕥𝕦𝕣𝕟𝕚𝕟𝕘 𝕥𝕠 𝕪𝕠𝕦𝕣 𝕀𝕟𝕟𝕖𝕣 𝕎𝕚𝕝𝕕 𝕎𝕠𝕞𝕒𝕟?
To go on a wild, free, blissful adventure!?
Do you feel a FULL yess!??
 welcome 
 to join!
*
We will create a safe, wild & free courageous space in a beautiful Temple in Nature 
 @ Magic Mother Earth
*
*~* ~* ~* ~* ~* ~* ~* ~* ~* ~
𝓟𝓻𝓪𝓴𝓽𝓲𝓼𝓬𝓱 
De plek 
Magic Mother Earth (Magic Me) in Stekene, Belgie
een Paradijselijke plek op aarde
*
Je investering 
Early bird tickets t/m 8 juli: 55 euro | Sister tickets: 100 euro
Tickets vanaf 9 juli: 66 euro | Sister tickets 120 euro
*
𝓘𝓷𝓫𝓮𝓰𝓻𝓮𝓹𝓮𝓷
Verse kruidenthee
Lemurisch IJskristal water
Vers fruit
*
Aanmelden 
Stuur een mail naar marjon@dansdoorhetleven.com
Meer info volgt bij je inschrijving 

*
We welcome YOU 
 Full of love
 Francien & Marjon
*
meer info over Francien 
www.sacredtemple.nl
meer info over Marjon 
www.dansdoorhetleven.com