Wanneer:
3 september 2021 @ 12:00 – 16:30
2021-09-03T12:00:00+02:00
2021-09-03T16:30:00+02:00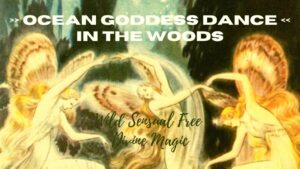 dear beautiFUL Wom@n
 you are very welcome to join us in and around the woods .. in the home & wisdom of nature .. in your inner ocean.. rooting in mother earth, flowering open in the light of the sun 
 …. a calling home ….
A danceceremony in Divine Flow, honoring our Body as a vessel for Divinity. A prayer of dance and movement. Grounding, rebirthing, embodying. Radiating love and expanding into something New 
 Sensual Loving Sacred Flowing Wild & Free 
Surrendering to your Magic & Mysteries
Your loving powerful heart, your free flowing wisdom, your beautiful wise body. Rising into your power, your infinity 
Discovering your gifts.. and all that wants to be birthed, awakened..
It is time..
When women come together, MAGIC happens!!
Deeply re-connecting nature 
 returning to our true nature
Freeing & Remembering…who we truly are 
@playfulness @wisdom @sisterhood @inner power @divine flow @expansion @rebirthing @magic & mystery @true connection @remembering @embodying @rising
@We will freely enjoy in Divine Flow 
Sacred Shamanic Priestess Ritual
Sacred Selflove
Womb wisdom
Sensual awakening
Sacred movement, breath, voice
Conscious free sacred dancejouney
Magic & Mysteries dreamtime
Sisterhood
Amazing music from around the world
****PRACTICAL****
@TIME
Welcome to arrive around 12h ! We will start with a small picknick in the sunshine! at the grassfield near the fireplace.. to enjoy our homemade small food & even share it 
If you feel like it.. Otherwise please arrive by 12.44h
We will start the danceceremony at 13h.
The Ceremony will end at around 16h. Then we will have a sweet closing from 16-16.30h Please inform me if you need to leave earlier!
@INCLUDED
to nurture our bodies:
-Fresh herbal tea
-organic oils / rosewater / earth clay & colors
@BRING WITH YOU
– blanket
– bottle of water
– cup for the tea
– a wide skirt or dress in which you feel free, beautiful, feminine
– symbols for the altar
– candle in a glass
– instrument if you wish
– homefood small food
– anything else you need
@INVESTMENT
– 28 ~ 33 euro (flowing scale)
– adjusted investment for minimum income / student ticket / or any other situation (pm me for info & please do not hesitate!! we wish to make it possible for any woman to join!)
@REGISTRATION
Registration on beforehand
We will have a max. number of places!
please send me a PM or mail (marjon@dansdoorhetleven.com) to register!
you will then receive further info
@LOCATION
in a beautiful private woods
@TerraSanaHamme
a powerful and magical place!
in Hamme (Belgie)
Feel free to invite your sisters
And if you have any questions please PM me
a loving & warm welcome
Marjon
www.dansdoorhetleven.com
Marjon is gracefully guiding from her wisdom, heart & spirit. She is deeply connected with her body in sensuality, senses, joy… She creates a sacred space for women to connect with their divinity, passion, their beautiful body, to freely express themselves. To follow their inner divine flow. She connects with the beauty & power of nature