Wanneer:
29 oktober 2021 @ 19:15 – 21:00
2021-10-29T19:15:00+02:00
2021-10-29T21:00:00+02:00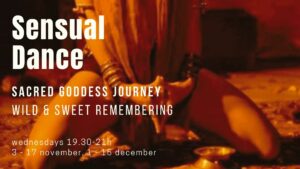 beautiful woman,
welcome to your Sensual Dance 
a wild & sweet journey into your Body, Divine Feminine Essence, Sensuality, Self~love, Joy, Soft Power & Wildness *~*~*~*~
deepening, nourishing and tuning into your connection with your beautiful lovely temple body 
 your sweet flowing life energy
in this Autumn season, which is inviting us to go within, to meet ourselves
In this sacred dancejourney you will receive & unleash into 
 a deeper connection with your body
 relaxation and freedom in your body
 awakening sacred movement
 your true wild nature
 an open heart
 loving playfulness
 self-healing
 soft power
 grounding
 lots of Self-love
 pleasure & joy
 a healthy loving temple body
 a relaxt mind
 happines
 free flowing life energy
 sisterhood
 and so much more…
with beautiful music guiding you
my guidance & your inner guidance
we will create a sacred loving space together, in which all can flow
the first part we will awaken together into our senses, moving and feeling our body, our breath, our slow sensual movement (its magic)
the second part.. from this beautiful deep connection we will flow into a sacred free dance..dancing all of you 
 your inner earth, water, fire, air
and last, we will soften on the earthfloor and sweetly integrate all
*****
you can take the whole journey (preferably) or one or more single sessions
your investment/energy exchange
whole journey (4 dances) 
 68 euro
per session 
 20 euro
Register on beforehand! Save your spot 
 till one day before the date of dance
send me a pm, or email (marjon@dansdoorhetleven.com) and register in this event.
feel free to invite your sistars!
Bring with you
*sacred symbol for our altar
*bottle of water
*sweet & soft mat or blanket
*dress in which you feel free & cosy
Location
Cultureel Centrum den Dullaert
Sportlaan 24, Hulst (free parking)
Our temple of dance is the Theater space, with wooden floor, velvet curtains, sweet lights
 Welcome to join
Happy to see you!
with love & grace
Marjon
dansdoorhetleven.com
Marjon is gracefully guiding from her wisdom, heart & spirit. She is deeply connected with her body in sensuality, senses, joy… She creates a sacred space for women to connect with their divinity, passion, their beautiful body, to freely express themselves. To follow their inner divine flow. She connects with the beauty & power of nature. The dances are transforming, empowering, awakening..