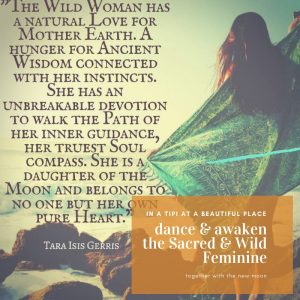 Dance & Awaken the Sacred Wild Feminine
dance in a Tipi
Tuesday, October 9, 19.30 – 21.15 uur, Philippine
WOMEN welcome!
This time we will dance in a tipi at a beautiful place,
to deeper connect with nature through our dance.
The dance will be an invitation to connect with your true & wild nature;
divine, peaceful warrior, medicine woman, wise woman, your sensuality & playfulness.
We will dance together with the New Moon in Libra. A dance of the feminine and masculine.
New moon is the time of new projects, new beginnings.
We will sing together the mantra "Om Gam Ganapataye Namah".
This mantra is taken at the beginning of a new cycle. Blessings and removing of obstacles.
With Ritual Dance (SuryaSoul® body mudra's), Temple Practices ♥ Goddess retreat, Meditation, Singing mantras and an Inner Open Dance journey to let go, surrender, transform & manifest, to root & restore.
Beautiful world music to inspire you to dance, connect & express.
please bring
clothes you feel comfortable & beautiful in
advice to wear layers (it might get cold at night), socks
water
included
fresh herbal tea 
registration: mail to: marjon@dansdoorhetleven.com
reserve your place!! limited places!
investment 
18 euro (payment in advance, possible till Oct. 8)
20 euro at the door
place
Tipi at De Kern, Mosselpolderstraat 8, Philippine 
http://www.centrum-de-kern.nl/
We will start at 19.30h, welcome at 19.15h
welcome to be there
love
Marjon
Marjon van Dorsselaer
SuryaSoul®DanceOfLife teacher
Nia® cert. Blue Belt holistic dance teacher
Life's a dance