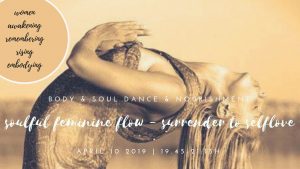 woensdag 10 april, 19.45 - 21.15h, Hulst
A journey in self-love <3 Your Body is your Temple <3
We breathe, move, dance, shake, nourish, meditate, laugh, sense, play, enjoy, sound, sing. We come to choose LOVE, to sense LOVE, to share LOVE <3
<3 Your deep feminine essence is flowing love <3
Een heerlijke dans & beleving in genieten en je dieper verbinden met je lichaam, jouw vrouwelijkheid, gevoelens, emoties, je ziel, je ware natuur. Je hart openen. De focus ligt op diepe verbinding & zachtheid. Loving, accepting & embracing every part of you <3 Langzame vloeiende bewegingen, diep in je lijf zakken, diep & ontspannen ademen in je hele lijf. Je overgeven aan de dans van je lichaam, je laten leiden door je intuïtie. De dans van je instinct. Je voelt de kracht en het vertrouwen van aanwezig zijn in je lichaam. Zo kun je liefdevol openen in alles wat er is. Sensaties van plezier voelen & genieten in je hele lijf ~ je vrouwelijke essentie. In deze openheid en bewustzijn kun je je ware zelf ontmoeten, zonder alle maskers. Je vrouwenkracht, Shakti, je sensualiteit. Je verlangens voelen, liefdevol accepteren wat er is, jezelf vieren! Je over geven aan je natural flow en GENIETEN !
Hoe voelt de beweging in je lijf? We gaan diep verbinden met ons lichaam. Door je bewust te zijn van de sensaties in je lichaam ben je in contact met je lijf en kun je voelen wat het nodig heeft, je energie kan weer stromen, je kunt genieten & ontspannen. Self-healing <3
We nodigen ons lichaam uit in beweging, van verstillend, sensueel, vloeiend, tot expressief & zachte kracht, je klank & stem, om zo helemaal in je lijf te komen, los te laten, transformeren, te verbinden met je ware zelf, je hart & ziel, te stralen. Bewegingen & muziek die je hart openen.
Je wordt uitgenodigd om jouw eigen wijsheid te volgen, te voelen & luisteren naar jezelf. Samen met andere vrouwen, in alle veiligheid, de intentie om jezelf lief te hebben, plezier te beleven, te zijn. Als vrouwen samen komen is er magie <3
Wil je dieper verbonden zijn met je lichaam en ziel? Je hart openen?Je vrij en vol vertrouwen voelen? Je energie weer laten stromen? Je lichaam en zelf verwennen met aanraking en liefdevolle aandacht? Je gelukkig voelen en blij zijn met jezelf? Jezelf waarderen & liefhebben? Je thuis voelen in je lijf? Stralen? Welkom! <3
* Self-love sets you free *
* Warming up your body, shake, stretch, breathe
* Move, Dance, Free Soulful Flow
* Practices to nourish & love your body <3 a shower of self-love
De dans
Choreo/Body Mudra's, inspiratie uit o.a.
♥ Nia® holistic dance of Body, Mind, Emotions & Soul
♥ SuryaSoul® Dance of Life, through the 7 chakra's, philosophy of Yoga & TAO
♥ Free soulful flow
***VOOR WIE?
Vrouwen, leeftijd vanaf 16 jaar tot...
Je hebt geen danservaring nodig!
***INSCHRIJVEN/INVESTERING
Bijdrage: 16 euro / Sociaal inkomen: 13 euro
Mail me om je in te schrijven: marjon@dansdoorhetleven.com
***LOCATIE
prachtige zaal, met houten vloer en fluwelen gordijnen
zachte intieme verlichting
Cultureel Centrum den Dullaert, Sportlaan 24, Hulst
Gratis parking
***MEENEMEN
Kleding (evt. laagjes) waarin je gemakkelijk in kunt bewegen en ontspannen, waar je je mooi en vrouwelijk in voelt
Lekkere deken(s), Flesje water
Er zijn matjes en meditatiekussens in de zaal.
Heb je nog vragen, laat het me weten!
Come as you are ♥
Een liefdevol welkom!! ♥
Marjon
Marjon van Dorsselaer
Nia® cert. Blue Belt teacher / SuryaSoul®DanceOfSoma teacher
Life's a dance www.dansdoorhetleven.com
Testimonials:
Marjon, bedankt voor jouw begeleiding doorheen de chakra's, voor jouw warme pure energie, jouw zorg-dragen en jouw mooie jij. De reis zorgde voor meer harmonie, meer toekomen in mijn lichaam, het bracht me nog meer voeling met wie ik echt ben. Soms was het best intens en confronterend maar het beklimmen van die berg maakt me enkel sterker! De energie die er heerste in samenspel met de muziek bracht me een warm en vreugdevol gevoel...het toverde me een deugddoende glimlach Namasté Rita Galle
'Wauw wat een bijzondere middag! Waarbij mijn kracht en kwetsbaarheid samen zijn gekomen en ik door te dansen allebei heb kunnen omarmen. Ik ga met een frisse blik en een nieuwe dosis zelfvertrouwen mijn nieuwe jaar tegemoet 🙂 Dankje Marjon voor jouw kracht en warmte deze middag.' Liefs, Anouk
'De medicine woman reeks was als een reis. Eerst gaan je lichaam en geest zich aanpassen, daarna lijkt het alsof je herboren wordt.' Peggy
'Hallo lieve mooie vrouw. Dank dat ik dankzij jouw mooie inspirerende lessen, zoveel fijne vrouwelijke energie kan en mag beleven. Zoveel liefde en zachte kracht mag ontvangen. En toch heel krachtig in mijn lichaam zijn.' Liefs Monique xx
'Vooral heerlijk dansen. Tijd voor jezelf. Ontspanning. Stilstaan bij je vrouwelijke kracht en deze er meer laten zijn, dat kan bij mij geen kwaad ;). Daardoor komt er meer balans tussen de mannelijke en vrouwelijke kant in mij. Aandacht om met intenties te dansen, dat werkt voor mij erg goed om ze krachtig neer te zetten.'
''Echt een aanrader, lieve vrouwen. de vorige keren waren zo fijn, zacht, kwetsbaar, krachtig, ... En je hoeft helemaal geen danservaring te hebben; enkel in je lijfje en hart duiken en die dansen als vanzelf in jou met de muziek'
'Met dank aan jouw initiatief en begeleiding in de dans, voel ik mij aangespoord mezelf opnieuw te verbinden met mezelf, mezelf te voelen van binnenuit, mij te verbinden met dat in mij wat verder mag ontwaken, meer mag aarden, transformeren, en gezien, gevoeld en geleefd mag worden, mag worden omarmd. In mijn dans ben ik volledig Mij, kan ik VOLledig ZIJN, in mijn dans ben ik vrij. Ik mocht deze vorm van zelf expressie mij opnieuw toe-eigenen, deze manier van ruimte innemen en vrijheid ervaren opnieuw verwelkomen in mijn leven. Ik voel me hier dankbaar voor, ik voel me gezegend. Ik kwam jou precies op het juiste moment tegen in mijn leven!'