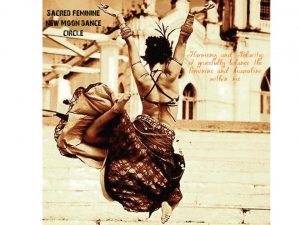 Vrijdag 20 oktober, 19.15 – 21.30 uur
Droomatelier, Huickstraat 6, Stekene
TO OPEN in your FEMININE BODY
TO DANCE & CONNECT with the spirit of the NEW MOON ♥ with Sisters ♥ with the Global Sisterhood theme ♥ HARMONY & POLARITY: I GRACEFULLY BALANCE THE FEMININE AND MASCULINE WITHIN ME ♥
Jezelf verwelkomen jezelf zoals je bent, je vrouwelijkheid, de SACRED FEMININE in jou ontwaken. Dansen, bewegen en je verbinden met de krachten van de maan. Je innerlijke wijsheid & flow volgen. Alles wat is door je heen laten bewegen. Je bewust zijn van jezelf, je vrouwelijke energie, koesteren, sensualiteit. Vertragen, jezelf ontmoeten in de stilte. Thuiskomen bij jezelf, jouw essentie, je eigenliefde, je dromen. Je vrouwelijke creatiekracht laten stromen. Thuiskomen en verbinden met elkaar.
R E M E M B E R   W H O   Y O U   A R E ♥
Je bent welkom in een veilige ruimte om vrij te bewegen; jouw pure zijn en unieke expressie, in dans, beweging en stem.
NIEUWE MAAN ENERGIE
De opkomst van de maan symboliseert een nieuw begin, een nieuwe start. Wat laat je los en wat wens je te ontvangen? Een krachtige periode om iets nieuws te starten; je intenties en wensen duidelijk te maken. Door ons af te stemmen op de maan komen we als vrouwen meer in contact met onze eigen natuurlijke stroom en vrouwelijke essentie. 
DEZE NIEUWE MAAN
Deze nieuwe maan staat in het teken van Weegschaal, Element Lucht, Hartchakra
Kwaliteiten & eigenschappen: Harmonie, Balans, Eerlijkheid, Gracieus, Vredelievend, Polariteit, Partnerschap, Samenwerking, Symmetrie
UNIFY GLOBAL SISTERHOOD
Deze dans cirkel is verbonden met het Unify Global Sisterhood thema HARMONY & POLARITY en de nieuwe maan in Weegschaal
♥ IT IS THE TIME FOR DIVINE FEMININE TO RISE, BE HONORED, CELEBRATED AND EMBRACED
SO WE CAN BRING GREATER PEACE, COMPASSION, MAGIC, INTUITION, SACRED RHYTHMS, AND CONNECTION TO THIS WORLD.
♥ IT IS OUR SACRED DUTY TO SHIFT COMPETITION, COMPARISON, JEALOUSY AND JUDGMENT INTO CONNECTION, SUPPORT, AND TRUST THROUGH PERSONAL ACCOUNTABILITY AND SELF LOVE.
♥ CONNECTING WITH THE NATURAL RHYTHMS OF THE EARTH'S SEASONS AND THE MOON'S CYCLES CONNECTS US TO A GREATER BALANCE AND PEACE. http://women.unify.org/
LOCATIE/TIJD
DroomAtelier Stekene, Huikstraat 6
Welkom om 19.15 uur! We starten om 19.30 uur ♥
AGENDA
Welkom in cirkel
Global Sisterhood Heart meditatie & theme visualisatie
Sacred Feminine Dance circle *
Sacred Free Dance Journey **
Opening your Sacred Voice ***
Intentie/Wensen
Afsluiting in cirkel
* SACRED FEMININE DANCE: dancing, grounding & awakening into your Sacred Feminine body. Dancing your grace, flow, beauty, joy, power,...  Beweging laten ontstaan vanuit je bekken (je vrouwelijke krachtcentrum); moeiteloos, vloeiend en krachtig - in verbinding met je hart. Een flow van aankomen in de ruimte, in jezelf, jouw unieke ritme, je lichaam in beweging laten komen, expressie en verstilling. Nia® inspired dance. Nia@ is moving your body & soul ♥ dance, martial arts & healing arts.
** SACRED FREE DANCE JOURNEY: je maakt een innerlijke reis, begeleid door soul stirring music die je inspireert en uitnodigt te bewegen. Bij jezelf zijn, jezelf te zien. Alles wat is door je heen laten bewegen. Expressie geven aan wat is. Door te dansen en bewegen kom je in diepe verbinding met je ware zelf, met wat er werkelijk in je leeft, je natuurlijke stroom en ritme. We dansen in de ruimte in verbinding met onszelf en vanuit deze verbinding met elkaar. Met de energie en kracht van deze volle maan. 
*** OPENING YOUR SACRED VOICE: While moving & dancing we will deepen in our song, open in our body. Sounding & Chanting, Grounding fully in your body, belly, breath & Mother Earth. We dansen in een sacred space, een veilige omgeving, met respect voor jezelf en voor elkaar; ruimte voor wat is; genieten van aandacht voor jezelf; verbinden, delen & plezier beleven met elkaar.
MEENEMEN: deken, kussen, water, evt. krachtsymbool en/of kaars
INSCHRIJVEN & BIJDRAGE
Vooraf inschrijven om je plaats je reserveren: stuur een mail naar marjon@dansdoorhetleven.com.
Na inschrijving ontvang je een verdere mail met info.
Je bijdrage: 
15 euro bij betaling vooraf
18 euro bij betaling op de avond zelf
Info op FB www.facebook.com/events/292690581249764
Een warm welkom!
♥ Marjon
Marjon van Dorsselaer
certified Nia Blue Belt holistic dance teacher
Life's a dance