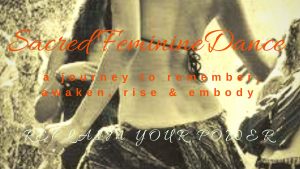 Beautiful Woman, welkom bij deze heerlijke transformerende reis om thuis te komen in jezelf; ontwaken in je vrouwelijke kracht
A beautiful, powerful, joyful & loving journey ♥
A Sacred Feminine Dance to Remember, Awaken, Rise & Embody
Flourish into the Goddess You Are
Een reis door de chakra's ♥ Terugkeer naar je bron ♥
*** Je kunt per sessie deelnemen!
Er zijn op dit moment nog 5 sessies ♥
27 feb | 6 mrt | 20 mrt | 27 mrt | 3 apr
Deze reis is een terugkeer naar en zijn in je vrouwelijke kracht; je bron, van vreugde, liefde, creatie, je ware essentie, de verbinding met de natuur, jouw natuur. Je vrouwelijke energie laten stromen ♥ (zelf)liefde, sensualiteit, wijsheid, helende energie, intuïtie, schoonheid, kracht, vreugde.....
Uit je hoofd, in je lijf, in je kracht! Door dans, beweging en stilte. Dit is JOUW moment! ♥ Om te genieten & zijn, ontwaken in je kracht en vrouwzijn ♥ Samen met andere vrouwen ♥ Waar vrouwen samen komen is er magie! De kracht van vreugde en je juicy creatieve vrouwelijke energie laten stromen.. Welkom!
Ontwaken in de godin in jou, je stralende zelf.
Are you ready?
Tijdens elke sessie worden alle chakra's in beweging gebracht ~ ALL of YOU ~ EN! we verbinden dieper met de krachten van één specifieke chakra (zie onderaan voor verdere info) ♥ Remember who you are ♥ Je lichaam is jouw tempel ♥
WOENSDAG 27 FEBRUARI: zonnevlecht chakra & element vuur
ontwaak de vuurgodin in jou! je passie, moed, vuurkracht | de stevigheid om te manifesteren | de transformerende kracht van vuur | je stralende zelf | grenzen aangeven en niet langer slachtoffer zijn | stevig verankerd zijn in jezelf | eigenwaarde | de balans tussen yin & yang ♥ binnen- en buitenwereld ♥ zijn & doen
DE BELEVING ~Dans je vrij~
Aankomen in de ruimte, in je lijf, je adem, je ritme laten ontstaan.
Dansen met je blote voeten, handen, heupen, je hele lichaam, al je sensaties. De transformerende kracht van acceptatie en intentie.
***Ritual Sacred Dance en een Sacred DanceJourney.
De rituele bewegingen (body mudra's) laten je thuiskomen in je vrouwelijke lichaam, je schoonheid, essentie van je vrouw~zijn, je lichaam eren, ontwaken in je kracht & essentie ♥ De dans van Shiva & Shakti.
De Sacred DanceJourney nodigt je uit in de verbinding met je lichaam, hart & ziel, je emoties. Je innerlijke wijsheid; je over te geven aan je intuïtie. Loslaten in de dans, transformeren, ontwaken, je energie laten stromen, je eigen ritme vinden. Expressie geven aan wat er is in het moment, je ware essentie, jezelf lief hebben, koesteren & genieten. Vreugdevol dansen, zingen, sounden.
Ontspannen & bewegen naar de stilte. Jezelf koesteren ~ met een heerlijke massage olie die hoort bij de chakra die we dansen.
Met prachtige ritmes & melodieën vanuit de hele wereld, van sereen tot uitbundig, van verstillend tot expressief. Mantra's, Indiase sitar, viool, drums, ……
Dance your Inner Sparkle * A Goddess Sensual Serene Graceful Playful Tribal Wild Joyful Loving * ALL OF YOU dance
♥ Focus on the part of you that is already a goddess, powerful, connected in pleasure. Focus on your core power and inner spark, your goddess nature ♥
♥ The dance is about awakening & nurturing the cordious soulful piece that is already there ♥
"As we abandon and surrender ourselves to the dance that unfolds from within, we enter a 'thought-free' state where the mind becomes a focused instrument for the song of the heart and we are able to enter deep levels of joy and bliss" ~ Sacred Women, Sacred Dance
***VOOR WIE?
Vrouwen, leeftijd vanaf 16 jaar tot...
Je hebt geen danservaring nodig!
DATA/TIJD: 19.45 - 21.15 uur
Je kunt inschrijven/deelnemen aan de volledige reeks of losse sessie:
6 feb: basischakra: Verbinding met je lichaam, aarde, natuur
13 feb: sacral chakra: Emoties, Sensualiteit, Vrouwelijke Energie
27 feb: zonnevlecht: Kracht, Passie, Essentie
6 mrt: hartchakra: Zelfliefde, Verbinding, Dromen
20 mrt: keelchakra: Zelfexpressie, Waarheid, Creativiteit
27 mrt: voorhoofdchakra: Intuitie, Visie & Wijsheid
3 apr: kruinchakra: Verbinding met Universum, Eenheid, Spiritualiteit
***INSCHRIJVEN/INVESTERING
voor de reeks: 91 euro
voor 4 sessies: 60 euro
losse sessie: 16 euro
voor de reeks of 4 sessies: betalen bij je eerste sessie
Mail me om je aan te melden: marjon@dansdoorhetleven.com
***LOCATIE
prachtige Theaterzaal, met houten vloer en fluwelen gordijnen
Cultureel Centrum den Dullaert, Sportlaan 24, Hulst
Gratis parking
***MEENEMEN
Kleding (evt. laagjes) waarin je gemakkelijk in kunt bewegen en ontspannen, waar je je mooi en vrouwelijk in voelt
Flesje water
Lekkere deken
Er zijn matjes en meditatiekussens in de zaal.
Choreo/Body Mudra's, inspiratie uit o.a.
Nia® holistic dance of Body, Mind, Emotions & Soul
SuryaSoul® Dance of Life, through the 7 chakra's, philosophy of TAO
Heb je nog vragen, laat het me weten!
Een liefdevol welkom!!
Marjon
Marjon van Dorsselaer
Nia® cert. Blue Belt teacher / SuryaSoul®DanceOfSoma teacher
Life's a dance
Testimonials:
'Wauw wat een bijzondere middag! Waarbij mijn kracht en kwetsbaarheid samen zijn gekomen en ik door te dansen allebei heb kunnen omarmen. Ik ga met een frisse blik en een nieuwe dosis zelfvertrouwen mijn nieuwe jaar tegemoet 🙂 Dankje Marjon voor jouw kracht en warmte deze middag.' Liefs, Anouk
'De medicine woman reeks was als een reis. Eerst gaan je lichaam en geest zich aanpassen, daarna lijkt het alsof je herboren wordt.' Peggy
'Vooral heerlijk dansen. Tijd voor jezelf. Ontspanning. Stilstaan bij je vrouwelijke kracht en deze er meer laten zijn, dat kan bij mij geen kwaad ; ). Daardoor komt er meer balans tussen de mannelijke en vrouwelijke kant in mij. Aandacht om met intenties te dansen, dat werkt voor mij erg goed om ze krachtig neer te zetten.'