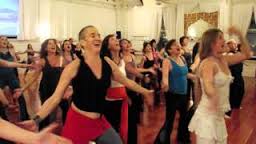 Dansen op de leukste Nia nummers & muziek van de afgelopen vier jaar Nia in Hulst/Zeeuws Vlaanderen!
Zondag 19 februari, 10.30 - 12.00 uur
Zaal FeelGoodClub Delta Hulst
We hebben in de afgelopen vier jaar veel verschillende Nia choreografieën/routines gedanst!
Geef jouw favoriete dansnummers door vóór 12 februari! marjon@dansdoorhetleven.com
De naam of omschrijving van de dans of muziek 🙂 (zie hieronder de lijst van routines/muziek)
En we dansen op jouw favoriete playlist!!
De nummers met de meeste stemmen komen op de playlist!!
Inclusief opwarming & cooldown!
Je kunt de routines beluisteren/bekijken via onderstaande links.
De allereerste routine waarmee we zijn gestart in 2012 was Passion.
We dansen nu met Dragon. De vorige twee routines waren DreamWalker & hOme
Routines:
Awake: nianow.com/product/music/awake-music-digital-download
Aya: nianow.com/product/music/aya-cd
Dragon: www.youtube.com/watch?v=qmjG0ixIyok
DreamWalker: nianow.com/product/music/dream-walker-cd
Earthsong: www.nianow.com/product/music/earthsong-cd
hOme: www.youtube.com/watch?v=_vXlpNYWn4c
Opal: nianow.com/product/routines/opal-routine
Passion: nianow.com/product/music/passion-cd
R1: nianow.com/product/music/r1-cd
Rise: nianow.com/product/music/rise-music-digital-download
Soul: nianow.com/product/music/soul-music-digital-download
Soul2Soul: www.youtube.com/watch?v=cghuPuUcOAc
Touch: nianow.com/node/405839
Iedereen welkom! Van 2012 starters tot huidige dansers tot nieuwe dansers 🙂
Inschrijven/Bijdrage
Graag vooraf laten weten of je komt: stuur een mail naar marjon@dansdoorhetleven.com
Je bijdrage: 12,50 euro
Welkom bij dit super dansevent 🙂
Marjon
certified Nia Blue Belt teacher