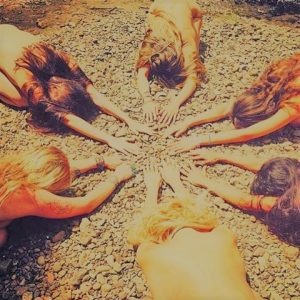 Deze keer: OP HET STRAND!
met Nieuwe Maan & Zonnewende
Thema: Liberation Through Forgiveness - 
I forgive, I let go, I set myself free
De opkomst van de maan symboliseert een nieuw begin, een nieuwe start. Wat zou je graag willen loslaten en wat zou je graag willen ontvangen? Een krachtige periode om iets nieuws te starten; je intenties en wensen duidelijk te maken.
Door ons af te stemmen op de maan komen we als vrouwen meer in contact met onze eigen natuurlijke stroom en vrouwelijke essentie. Het kan je helpen bij je spirituele groei.
Maanenergie gaat samen met innerlijke rust, innerlijk in harmonie zijn. Terwijl zon meer een uiterlijke rust is die te maken heeft met actie.
Deze dans cirkel is verbonden * met het Unify GlobalSisterhood thema Liberation through Forgiveness; * met de nieuwe maan, met de intentie om onszelf te transformeren en de wereld te transformeren en * met de Zonnewende, de start van de zomer.
Duizenden vrouwen komen samen in cirkels om te verbinden, groeien en transformeren; we eren, bekrachtigen en vieren de Divine Feminine, Global Sisterhood & and Inner Peace .
Deze nieuwe maan staat in het teken van Kreeft (element water; tweede chakra): emoties, empathie, sensitiviteit, zorgzaam, loyaal, betrouwbaar, zelfverzekerd.
Maan in Kreeft is een periode om aandacht te besteden aan je huis en/of familie, koestering, je thuis voelen, emotionele warmte en dat wat jou voedt.
De vrouwen dans cirkel is deze keer op het strand bij Breskens. Een rustige plek, met 'stevig' zand, waar we fijn kunnen dansen. Met de sensatie van het element water en het vuur van de zon en zomer. Bij slecht weer kijken we voor een alternatieve locatie.
Na je inschrijving via: marjon@dansdoorhetleven.com ontvang je de precieze locatie via email!
Aankomst op het strand om 19.15 uur, we starten om 19.30 uur! We sluiten af 21.30-22.00 uur.
Je kunt er voor kiezen om daarna nog op het strand te blijven. We rekenen op mooi weer!
Tip: wil je carpoolen, geef een berichtje in het evenement!
Global Sisterhood Heart meditation
Opening the Sacred Voice - practices by Peruquois *
Sacred Feminine Dance circle **
Sacred Free Dance Journey ***
* To deepen in your song To open in your body Be in your love
Grounding fully in your body, belly, breath & Mother Earth.
(ademen, chanten, sounding)
** Sacred Feminine Dance: dancing & awakening into your Sacred Feminine body. Beweging laten ontstaan vanuit je bekken (je vrouwelijke krachtcentrum); moeiteloos, vloeiend en krachtig. In verbinding met je hart. We dansen in een cirkel. Nia® inspired dance.
*** Sacred Free Dance Journey: je maakt een innerlijke reis, begeleid door muziek die je inspireert en uitnodigt te bewegen.
Met de energieën en krachten van deze nieuwe maan. Je geeft expressie aan wat er is. Door te dansen en bewegen kom je in diepe verbinding met je ware zelf, met wat er werkelijk in je leeft, je natuurlijke stroom en ritme. We dansen in diepe verbinding met onszelf en vanuit deze verbinding met elkaar.
Beautiful, Strong & Loving ♥
In een veilige omgeving, met respect voor jezelf en voor elkaar; ruimte voor wat is; genieten van aandacht voor jezelf; delen en plezier beleven met elkaar.
Meenemen: kussen, deken, water, krachtsymbool, evt. kaars in glazen pot, papier en pen voor je intenties, dromen, wensen
Vooraf inschrijven: stuur een mail naar marjon@dansdoorhetleven.com
Je ontvangt dan info over de precieze locatie op het strand!
Deze keer met de Kreeftmaan een dans cirkel zowel met Nieuwe maan op 23 juni op het strand bij Breskens (bij mooi weer, anders ? locatie) als met Volle Maan op 7 juli op een mooie plek in het bos bij Stekene (bij mooi weer, anders DroomAtelier) .
Tijdens de Nieuwe Maan schrijven we onze intenties en wensen op een blaadje. Wat zou je graag willen loslaten en wat zou je graag willen ontvangen? Op de avond van de volle maan gaan we een vuurtje branden om onze intenties te bekrachtigen en voor dat wat we los willen laten.
Welkom bij beide cirkels.
cert. Nia Blue Belt teacher