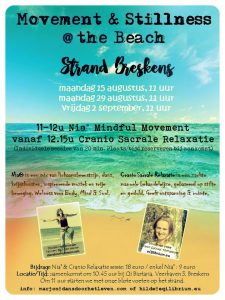 # maandag 15 augustus # maandag 29 augustus # vrijdag 2 september #
11-12u Nia® Mindful Movement
vanaf 12.15u Cranio Sacrale Relaxatie: Individuele sessies van 20 min. Je kunt je plaats/tijd reserveren bij aankomst.
We starten met Nia® Mindful Movement, met je blote voeten in het zand. Je lichaam in beweging brengen en in je lijf komen. Met aandacht je lichaam bewegen, met de elementen van de natuur, inspirerende muziek – in verbinding met jezelf en de natuur – helemaal ZEN.
Bewegen op een rustige, vloeiende en tegelijkertijd krachtige manier. Met een eenvoudige Nia@ choreografie, waarbij je uitgenodigd wordt om te te luisteren naar de sensaties in je lichaam.
Nia® combineert de elementen van dans, krijgskunsten & lichaamsbewustzijn. Met inspirerende muziek en vrije beweging. De unieke holistische mix aan bewegingstechnieken zorgt voor balans, kracht en flexibiliteit. Iedereen kan meedoen, geen ervaring nodig!
Daarna kun je genieten van een magische 
Cranio Sacrale Relaxatie op het strand op een heerlijke massagetafel onder een grote parasol.
Cranio Sacrale Relaxatie is een zachte manuele behandelwijze. Het craniosacraal systeem is een fysiologisch systeem met eigen ritmische bewegingen net als de ademhaling en de hartslag.
Bij een goede gezondheid hoort al het weefsel (dus iedere cel) een zekere mate van beweging te vertonen. De cellen in ons lichaam hebben echter de neiging om samen te trekken onder langdurige stress, een plotse impact of chronische spanning. Dit kan de natuurlijke beweeglijkheid verstoren, spanningen en druk in het lichaam veroorzaken en leiden tot uiteenlopende klachten.
Een belangrijk principe is dat het lichaam altijd op zoek is naar een natuurlijk evenwicht en daarbij het vermogen heeft om zichzelf te herstellen. Cranio Sacraal Relaxatie streeft ernaar ruimte te creëren daar waar nodig, zodat het lichaam zichzelf herstelt en je je maximale potentieel kan bereiken.
Cranio is gebaseerd op stilte en geduld, je beland in the "no mind" ver voorbij het denken … waar je positieve levenskracht en de zelfgenezende krachten van je lichaam het overnemen.
Combinatie Nia® & Cranio Sacrale Relaxatie: 18 euro.
Samenkomst om 10.45 uur bij Qi Biotaria. Veerhaven 3, Breskens. (gratis parkeerterrein)
Vanaf Qi lopen we naar het strand en starten om 11 uur met onze blote voeten in het zand! Graag tijdig aanwezig zijn.
handdoek en flesje water (en zonnebrandcreme 🙂
Stuur bij voorkeur een mail naar marjon@dansdoorhetleven.com of hilde@eqilibrium.eu om je aan te melden.
De Cranio Relaxatie van 20 minuten kun je reserveren bij aankomst!
SENSE je voeten op het zand, de wind op je huid, de geluiden van de golven. SENSE je lichaam, beweging, stilte, je ademhaling. Een unieke SENSATIE aan ZEE.
Hilde: www.eQilibrium.eu / hilde@eqilibrium.eu
Marjon: www.dansdoorhetleven.com / marjon@dansdoorhetleven.com