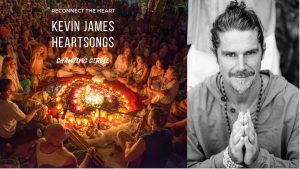 Wednesday, May 15, 19.30 - 22h. Doors open at 19h!
Hulst
Welcome to an inspiring unforgettable chanting evening with Kevin James Carroll.
Chanting Circle, Kirtan & Heartsongs ☆ A powerful way to reconnect to the heart ☆
Join us for an evening of connection, community spirit and singing of Heartsongs and Mantras with Australia's own world traveling chant leader Kevin James Carroll.
The Chanting Circle is an empowering and co-creative experience that can have you singing your heart out, dancing in bliss and diving deep into the profound silence that follows.
Sit back and take in the vibes or sing soft sweet simple melodies and let your voice fly with ascending choruses, followed by a flute meditation that takes you on a sound journey to the Himalayas.
Kevin and his partner Susana have been traveling the globe constantly with the intention of joining hearts together with Mantra and Heartsong to re-connect and remember who we are beyond the illusions of ego. Kevin believes from this state of being we can be harmonious in our existence...
Weaving ancient Mantra's with his own HeartSongs, Kevin's music is a world fusion of devotional chanting, drawing upon influences from traditional Indian Kirtan, Rainbow Bhajans, Celtic and Sufi chants mixed with western folk sounds.
'Kevin James' voice is touching, warm and loving at each moment – authentic and straight from the heart. He sings for you, he sings to your soul, and you will feel an immediate warm embrace which lets you feel cozy, protected and within a realm where sorrows have no weight anymore' – Sat Nam Europe
~~ ~~
☆ When:
Wednesday, May 15, 19.30 - 22h. Doors open at 19h!
☆ Entrance:
Early Bird ticket, limited number: 22euro SOLD OUT!!
Adults: 28 euro
Kids 11-18: 14euro
Kids up to 10 years - free
Online tickets order here: buy ticket
☆ Location:
Theater, Cultureel Centrum den Dullaert, Sportlaan 24, Hulst (The Netherlands)
Free parking space
☆ More info:
Some of the most popular songs from Kevin James:
Asatoma ~ https://www.youtube.com/edit?o=U&video_id=YGMhZFQ9iD0
Heaven in your eyes ~ https://www.youtube.com/watch?v=QQKnslOgSDw
Website and music https://kevinjamesheartsongs.com/
☆ Organization of this event:
Marjon van Dorsselaer
Dans door het Leven
if you have any questions or need further info:
mail to marjon@dansdoorhetleven.com
a warm welcome!