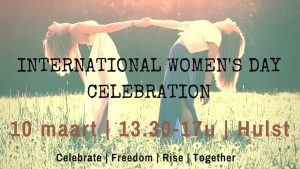 Overal ter wereld wordt International Womens's day gevierd! Zondagmiddag 10 maart komen we samen in Hulst met andere vrouwen om te vieren, genieten, zijn, dansen en meer..<3
Een magisch mooie krachtige middag! Een retreat voor jezelf <3 Als vrouwen samenkomen is er magie <3
It's time to transform ourselves so we can transform our world.
I will raise my voice. I will speak my truth.
I will shine my light. I will be true to myself.
I declare I am FINISHED giving my power away to anyone.
When we choose to rise and reclaim our power, we do so with deeply forged wisdom, compassion, grit, and soul.
We commit! for future generations, our mothers, and the many women who came before us.
On International Women's Day, that's exactly what we're doing.
Every woman who participates makes a difference.
We will gather together to heal on a massive scale, and we will shift the world. ~ Global Sisterhood
CEREMONIE ~ SACRED RITUAL DANCE ~ FREE DANCE ~ INTUÏTIEF DANSEN & SCHILDEREN ~ SOUL STIRRING MUSIC ~ GLOBAL SISTERHOOD MEDITATIE ~ ONTSPANNING ~ GENIETEN ~ KOESTERENDE VERBINDING ~ THEE & ZALIG SNOEPEN MET LIEFDE ~ FLOW
Vroegboek t/m 3 maart: 25 euro / duo ticket (voor 2 vrouwen): 45 euro
je kunt je inschrijven voor deze middag door je ticket te bestellen via deze link! 
***INBEGREPEN:
* 'Verantwoord zoet, snoepen met Liefde.' (vegan, raw en Organic) ~ made with love by 'Soulkitchen bewustzijn' ~ Francien vd Veeken
* massage olie
* verf & materiaal door Linda Schot
***MEE BRENGEN:
flesje water
lekkere kussens & deken(s)
gemakkelijke kleding waar je je vrij in kunt bewegen en je mooi en vrouwelijk in voelt
bloem
symbool voor het altaar
(mooi) theekopje, taartbordje, vorkje
We dansen in de mooie theaterzaal, met fluwelen gordijnen en houten vloer. Een warme veilige ruimte.
Er zijn matjes en meditatie kussens aanwezig
Heb je zin om vooraf de ruimte mee in te richten, stuur me een berichtje!
***KUNST ~ CREATIES
Maak en deel je kunstzinnige creaties? Geven deze expressie aan vrouwelijke energie, vrouw-zijn? Welkom om deze te exposeren deze middag in de ruimte! Stuur me een mailtje om dit verder te bespreken <3 marjon@dansdoorhetleven.com
Heb je nog vragen, stuur me een mail of berichtje!
Nodig andere vrouwen uit in dit evenement! Spread the news! 🙂 <3
***MEER DANS VOOR VROUWEN:
SACRED FEMININE DANCE JOURNEY to Reclaim your Power
dompel je in de zalige vrouwelijke energie & dans! https://www.facebook.com/events/2198123423834944
8 maart: International Women's day Celebration for Women & Men!!
we dansen deze ochtend samen met vrouwen EN mannen om de vrouwelijke energie te vieren <3
Nia® cert. Blue Belt teacher / SuryaSoul®DanceOfSoma teacher
'Wauw wat een bijzondere middag! Waarbij mijn kracht en kwetsbaarheid samen zijn gekomen en ik door te dansen allebei heb kunnen omarmen. Ik ga met een frisse blik en een nieuwe dosis zelfvertrouwen mijn nieuwe jaar tegemoet 🙂 Dankje Marjon voor jouw kracht en warmte deze middag.' Liefs, Anouk
'De medicine woman reeks was als een reis. Eerst gaan je lichaam en geest zich aanpassen, daarna lijkt het alsof je herboren wordt.' Peggy
'Hallo lieve mooie vrouw. Dank dat ik dankzij jouw mooie inspirerende lessen, zoveel fijne vrouwelijke energie kan en mag beleven. Zoveel liefde en zachte kracht mag ontvangen. En toch heel krachtig in mijn lichaam zijn.' Liefs Monique xx
'Vooral heerlijk dansen. Tijd voor jezelf. Ontspanning. Stilstaan bij je vrouwelijke kracht en deze er meer laten zijn, dat kan bij mij geen kwaad ;). Daardoor komt er meer balans tussen de mannelijke en vrouwelijke kant in mij. Aandacht om met intenties te dansen, dat werkt voor mij erg goed om ze krachtig neer te zetten.'
'Echt een aanrader, lieve vrouwen. de vorige keren waren zo fijn, zacht, kwetsbaar, krachtig, ... En je hoeft helemaal geen danservaring te hebben; enkel in je lijfje en hart duiken en die dansen als vanzelf in jou met de muziek'
'Lieve Marjon, Met dank aan jouw initiatief en begeleiding in de dans, voel ik mij aangespoord mezelf opnieuw te verbinden met mezelf, mezelf te voelen van binnenuit, mij te verbinden met dat in mij wat verder mag ontwaken, meer mag aarden, transformeren, en gezien, gevoeld en geleefd mag worden, mag worden omarmd. In mijn dans ben ik volledig Mij, kan ik VOLledig ZIJN, in mijn dans ben ik vrij. Ik mocht deze vorm van zelf expressie mij opnieuw toe-eigenen, deze manier van ruimte innemen en vrijheid ervaren opnieuw verwelkomen in mijn leven. Ik voel me hier dankbaar voor, ik voel me gezegend. Ik kwam jou precies op het juiste moment tegen in mijn leven!'