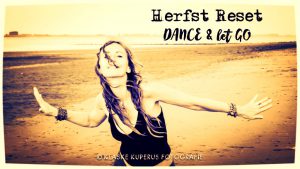 dinsdag 25 oktober, 11.00 – 12.30 uur
Verwelkom de energie van de HERFST in jezelf
In de week van 24 t/m 28 oktober zijn er géén Nia lessen in Axel & Hulst!
Wel dit mooie herfst event!!
Is er iets dat je wilt loslaten, transformeren, nieuwe voeding aan wilt geven?
Wil je gewoon genieten en laten stromen?
Je bent van harte welkom!
De Herfst is het seizoen van loslaten en verandering. Zoals de boom haar bladeren laat vallen, langzaam één voor één naar de grond. Wat laat je los en wat kan voor nieuwe voeding zorgen. De Herfst is het seizoen van knopen doorhakken en het perfecte moment om te kijken wat je niet meer nodig hebt in je leven. We dansen, laten los, transformeren, creëren, spelen & genieten.
Door te dansen en bewegen kom je in diepe verbinding met je ware zelf, met wat er werkelijk in je leeft. Door te dansen transformeer je de energie die geblokkeerd is; je laat los en laat stromen. Je creëert vrijheid en ruimte in jezelf.
We starten met Nia®, de magische mix van dans, krijgskunst, lichaamsbewustzijn en inspirerende muziek.
Dan maak je de reis naar binnen en naar buiten; je danst; je geeft beweging en expressie aan wat er is, wat je loslaat, wat er ontstaat - een begeleide freedance met muziek die je inspireert en begeleidt.
Het element van de Herfst is Metaal. De Herfst gaat over het loslaten van datgene wat je niet meer nodig hebt of wat je tegenhoudt. De vrijkomende energie van de natuur en van de herfst, het loslaten van materie. De ballast wordt voor de winter afgelegd, we laten het oude jaar achter ons en beginnen een nieuw jaar. Vertering is DE basis voor de groei van het nieuwe. Wanneer je afstemt op deze cyclus dan ga je mee naar "binnen". (De energie van de seizoenen - Yvonne Sangen/Karin Tazelaar)
In de Chinese geneeskunde staan de longen en de dikke darm in de herfst centraal.  De longen staan voor het innemen van nieuwe levensenergie en de darmen staan voor het elimineren van wat niet meer nodig is. 
Locatie: 
in de prachtige zaal van centrum Malpertuus, Malpertuuslaan 6, Clinge
Vroegboekprijs: 
vooraf inschrijven/betalen uiterlijk 22 oktober: 12 euro / voor Nia dansers met strippen- of leskaart: 10 euro
Bankrek.nr. IBAN NL08 ABNA 0445068523, t.n.v. M. van Dorsselaer.
Vermeld je naam + Herfst Reset.
Bijdrage aan de kassa: 
15 euro / voor Nia dansers met strippen-of leskaart: 13 euro
Inclusief: kruidenthee
Meenemen: evt. je eigen matje, handdoek, water
Stuur een mail naar marjon@dansdoorhetleven.com
Graag vooraf laten weten of je komt.
https://www.facebook.com/events/1678588752469806/