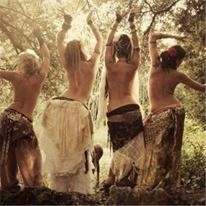 Welkom dear sisters
bij de FULL MOON SACRED WILD FEMININE DANCE CIRCLE
VRIJDAG 7 JULI, 19 - 21 uur
STEKENE bij mooi weer in het bos! (alternatief DroomAtelier)
VOLLE MAAN ENERGIE
Met volle maan is de maan in haar volledige kracht. Voor vrouwen is dit een tijd om de kracht in zichzelf te ontmoeten. Iedere volle maan heeft een eigen kracht. Bij volle maan bruisen we van energie. De volle maan energie is krachtig, magisch en voedend in vrouwelijke energie. Door ons af te stemmen op de maan komen we als vrouwen meer in contact met onze eigen natuurlijke stroom en vrouwelijke essentie. Je komt thuis bij jezelf.  Een pad van spirituele ontwikkeling.
Remember who you are ♥
DEZE VOLLE MAAN - PLANT MAAN - THEMA BESTEMMING
De ontwikkeling van je plannen hebben nu een bestemming gevonden en kunnen in alle rust verder rijpen en tot volle groei komen. Voel hoe is het met jouw rijping van de afgelopen tijd en jouw dromen. 'Wied' letterlijk het onkruid in je tuin en/of je leven, zoals gedachten, patronen, overtuigingen - om ruimte te creëren op jouw pad. Aanpassingen maken in woorden, gedachten, acties die het leven reflecteren dat je wenst te leiden.
Wil je overvloed, wil je een rijke oogst in je leven, dan volg je je gevoelens van vreugde. Stap in je volle potentieel en richt je op je doel en hoogste pad.
De maan staat in het teken van Steenbok, element aarde, basischakra - integriteit, toewijding, stabiliteit, verantwoordelijkheid georganiseerd, discipline
De zon staat in het teken van Kreeft, element water; tweede chakra - emoties, empathie, sensitiviteit, zorgzaam, loyaal, betrouwbaar, zelfverzekerd. koestering, je thuis voelen, emotionele warmte en dat wat jou voedt
AGENDA
welkom in cirkel
Global Sisterhood Heart meditation
Opening your Sacred Voice
Sacred Feminine Dance circle **
Sacred Free Dance Journey ***
afsluiting in cirkel
* To deepen in your song To open in your body 
Sounding & Chanting Grounding fully in your body, belly, breath & Mother Earth. 
** Sacred Feminine Dance: dancing & awakening into your Sacred Feminine body. Beweging laten ontstaan vanuit je bekken (je vrouwelijke krachtcentrum); moeiteloos, vloeiend en krachtig. In verbinding met je hart. We dansen in een cirkel. Nia® inspired dance.
*** Sacred Free Dance Journey: je maakt een innerlijke reis, begeleid door muziek die je inspireert en uitnodigt te bewegen. 
Met de energieën en krachten van deze volle maan. Je geeft expressie aan wat is. Door te dansen en bewegen kom je in diepe verbinding met je ware zelf, met wat er werkelijk in je leeft, je natuurlijke stroom en ritme. We dansen in de ruimte in verbinding met onszelf en vanuit deze verbinding met elkaar.
We dansen, vieren en eren vrouwelijke energie ♥ in onszelf ♥ in de cirkel ♥ in de hele wereld. 
In verbinding met de energie van deze Volle Maan. Beautiful, Strong & Loving ♥
In een veilige omgeving, met respect voor jezelf en voor elkaar; ruimte voor wat is; genieten van aandacht voor jezelf; delen en plezier beleven met elkaar.
LOCATIE
Bij mooi weer zijn we op een prachtige privé plek in het bos in Stekene. Anders in het DroomAtelier in Stekene
INSCHRIJVEN/BIJDRAGE
Graag vooraf inschrijven: stuur een mail naar marjon@dansdoorhetleven.com
Je ontvangt dan informatie over het adres en de precieze locatie in het bos
Je bijdrage: 15 euro
Aanwezig: heerlijke verse kruidenthee
Meenemen: kussen, deken, water, krachtsymbool, kaars, gezonde snack om te delen
Welkom om een instrument mee te nemen om live muziek te maken rond het vuur ♥ (indien in het bos)
Graag 10 minuten vooraf aanwezig zijn. We starten om 19.00 uur!
een warm welkom!
♥ Marjon