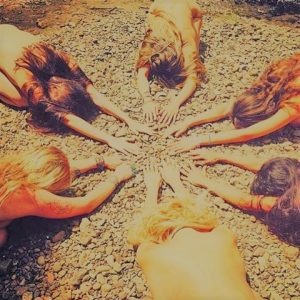 Welkom dear sisters
bij de FULL MOON BEACH DANCE SACRED WILD FEMININE 
TO DANCE at the BEACH with the spririt of the FULL MOON♥
Je wordt uitgenodigd om te dansen met de krachten van de maan. Verwelkom jezelf zoals je bent, ontwaak de danser in jou en volg je innerlijke leiding. Verbinden met je krachten en die dingen loslaten die je belemmeren in je leven. Je bewust te zijn en thuis te komen bij jezelf, een diepere relatie aan te gaan met je dromen en de wijsheid die we in ons dragen.Uitnodigen in dat wat gekoesterd en versterkt mag worden. Bewegen naar een groter gevoel van innerlijke balans. Je bent welkom in een veilige ruimte om vrij te bewegen; jouw ware zijn en unieke expressie.
VOLLE MAAN ENERGIE
Met volle maan is de maan in haar volledige kracht. Voor vrouwen is dit een tijd om de kracht in zichzelf te ontmoeten. Iedere volle maan heeft een eigen kracht. Bij volle maan bruisen we van energie. De volle maan energie is krachtig, magisch en voedend in vrouwelijke energie.
Door ons af te stemmen op de maan komen we als vrouwen meer in contact met onze eigen natuurlijke stroom en vrouwelijke essentie. Je komt thuis bij jezelf. Een pad van spirituele ontwikkeling. Herinneren wie je bent ♥
DEZE VOLLE MAAN - RODE MAAN - THEMA OVERVLOED & BESTEMMING
De wereld wacht op jouw talent. Waar ben je uniek in, waar wil je vernieuwend in zijn. 
Welk process heb je doorlopen de afgelopen periode? Welke eerste vruchten kun je daar nu van plukken?
Met de volle maan van 7 augustus is er een gedeeltelijke maansverduistering. Met de nieuwe maan van 21 augustus een totale zonsverduistering. Deze periode kun je een bewustzijnssprong maken. Een reset-moment. Focussen op de energie van het hart. Stil staan bij wat jou beweegt, waar je passie ligt. Authenticiteit en pure liefde ♥
De maan staat in het teken van Waterman, element Lucht, hartchakra ♥ eerlijk, origineel, eigenzinnig, vindingrijk, vrijheid, creatief, vernieuwend, onafhankelijk, idealistisch
De zon staat in het teken van Leeuw, element vuur; Zonnevlecht ♥ creatief, enthousiast, ruimdenkend, trouw, leider, trots, spontaan, moedig, zelfexpressie
AGENDA
welkom in cirkel
Opening your Sacred Voice
Sacred Feminine Dance circle **
Sacred Free Dance Journey ***
afsluiting in cirkel
* To deepen in your song To open in your body 
Sounding & Chanting Grounding fully in your body, belly, breath & Mother Earth. 
** Sacred Feminine Dance: dancing, grounding & awakening into your Sacred Feminine body. Beweging laten ontstaan vanuit je bekken (je vrouwelijke krachtcentrum); moeiteloos, vloeiend en krachtig. In verbinding met je hart. We dansen in een cirkel. Nia® inspired dance.
*** Sacred Free Dance Journey: je maakt een innerlijke reis, begeleid door muziek die je inspireert en uitnodigt te bewegen. 
Met de energieën en krachten van deze volle maan. Je geeft expressie aan wat is. Door te dansen en bewegen kom je in diepe verbinding met je ware zelf, met wat er werkelijk in je leeft, je natuurlijke stroom en ritme. We dansen in de ruimte in verbinding met onszelf en vanuit deze verbinding met elkaar.
We dansen, vieren en eren vrouwelijke energie ♥ in onszelf ♥ in de cirkel ♥ in de hele wereld. In verbinding met de energie van deze Volle Maan. Beautiful, Strong & Loving ♥
In een veilige omgeving, met respect voor jezelf en voor elkaar; ruimte voor wat is; genieten van aandacht voor jezelf; delen en plezier beleven met elkaar.
LOCATIE
Op het strand bij Breskens. Een rustige plek, met 'stevig' zand, waar we fijn kunnen dansen. 
Bij regen kijken we voor een alternatieve locatie.
Na je inschrijving via: marjon@dansdoorhetleven.com ontvang je de precieze locatie via email! 
Aankomst op het strand om 19.15 uur, we starten om 19.30 uur! We sluiten af 21.30-22.00 uur.
Je kunt er voor kiezen om daarna nog op het strand te blijven. We rekenen op mooi weer!
Tip: wil je carpoolen, geef een berichtje in het evenement op Facebook: https://www.facebook.com/events/129338211006636/?fref=ts
INSCHRIJVEN/BIJDRAGE
Graag vooraf inschrijven: stuur een mail naar marjon@dansdoorhetleven.com
Je ontvangt dan informatie (uiterlijk één dag vooraf) over het adres en de precieze locatie op het strand
Je bijdrage: 15 euro
Meenemen: deken, water, krachtsymbool, kaars in glazen pot, papier en pen voor je intenties, dromen, wensen
een warm welkom!
♥ Marjon van Dorsselaer
cert. Nia Blue Belt teacher
Life's a dance