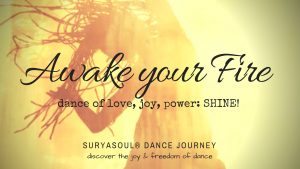 Zondag 7 april, 10.45 - 12.15 uur, Hulst
SUNdaymorning dance - JOYful Natural Awakening
A beautiful journey of awakening, rooting & rising in your body & soul.. Balancing your energy centers (chakra's). Amazing dance & music. Welcome all bodies & souls to join. No experience needed ♥
We move, we shine, we dance, we sing, we meditate and include!
"My mission in life is not merely to survive, but to thrive; and to do so with some passion, some compassion, some humor and some style." ~ Maya Angelou
DANCE to AWAKEN
This session we will dance, balance & focus on our Solar Plexus, the element of Fire, your Shakti Power
Awakening & connecting with your passion, courage, fire power, your will & direction, the power of transformation. Feeling alive in your dance. Dancing your true self in connection with the world around you. Your heart warrior ♥ Your shining self
THE JOURNEY
♥ A joyful & inspiring journey ♥ Awaken in every cell of your body
EASY CHOREOGRAPHED & FREE EXPRESSION**: dancing body mudras, awakening movement in all energy centers (chakra's) and ROOTING in our bodies. Through the 7 main chakra's, the filosofy of TAO. Dancing and Moving where pleasure is our guidance, inspired by world music tunes.
GUIDED & FREE SOUL DANCE JOURNEY: deeper awaking & nourishing the solar plexus ~ through music, dance, movement meditation, stillness, connection and beyond ♥ Silence & relaxation will be part of your dance ♥ Your body is your temple.
**The choreography is a SuryaSoul® conscious alive dance, movement and meditation journey. With dynamic and soft rhythms, melodies from the whole world. (more info on SuryaSoul® see below)
WHY WE DANCE
To connect & be with our true self. We dance to remember who we truely are, to connect with our joy and innate wisdom, to awaken & root in our body & life. To find joy, freedom & infinity. Dancing is an expression of the soul. Movement is your Medicine.
Location
Cultureel Centrum den Dullaert, Theaterzaal
Sportlaan 24, Hulst (the Netherlands)
Beautiful space, wooden floor, free parking
Date/Time
Sundaymorning, April 7, 10.45 - 12.15h
Investment
16 euro
14 euro cash for DansdoorhetLeven members (valid strippen/lessenkaart/ aanZ member)
Register
please send a mail to marjon@dansdoorhetleven.com
For who?
Everyone is welcome! This is a dance experience for all ages, abilities and experience levels. Men & Women ♥
Please bring
clothes to move in easily, option: chakra color yellow
water
(yogamats are available in the space)
Next dates of SUNDAY DANCES
SAVE THE DATES!
28 April
12 mei
19 mei (special celebration)
Bring your friends!
a shining welcome ♥
Marjon
SuryaSoul®DanceOfLife teacher
Nia® Certified Holistic Dance teacher