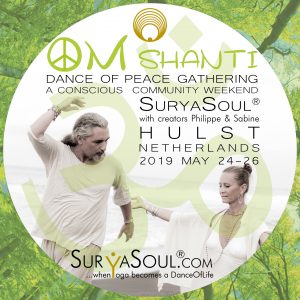 SURYASOUL®
OM SHANTI ☼ DANCE OF PEACE GATHERING
A CONSCIOUS COMMUNITY WEEKEND 24-26 May, 2019
A beautiful weekend of souls coming together to move, shine, dance, sing, meditate and include!
With inspiring & soulful creators of SuryaSoul®DanceOfLife Philippe Beaufour & Sabine Zweig (more info see below)
A unique weekend with Dancing Body Mudras, Peace Chants and Sound-Healing Meditation on the Dance Floor and on the Earth Floor (Dance in Nature). We meet our inner space - peace - through a gentle and dynamic movement journey, trusting the impulse to manifest and share it within the community.
SURYASOUL® - a Dance Of Life - is a conscious embodied Dance, Movement & Meditation practice based on the Chakra system (the 7 energy centers) and the Tao and Integral Yoga philosophies. It includes inspiring rhythms and music from all genres.
SURYASOUL® (surya=sun in sanskrit) creates an effective system for health and growth. We invite everyone to move towards peace - with body and soul. A journey into the resonance of the 7 Music Genres matching the 7 Chakras.
FOR WHO?
For everyBody! No experience in dance, movement or meditation required
TIMINGS /INVESTMENT
FR, May 24th 7.30pm-9.30pm, bring a candle! € 30
Weekend-Retreat incl. Sessions in Nature:
SA, May 25th 10am-5.30pm  € 120
SU, May 26th 10am-1.30pm  € 60
KOMBI COSTS
SA-SU:  € 160
Kombi FR-SU:  € 180
REGISTRATION & ORGANIZATION
Marjon van Dorsselaer | +31 114 321992, marjon@dansdoorhetleven.com
LOCATION
Malpertuus | Malpertuuslaan 6 Clinge (Hulst), The Netherlands
(very close to Belgium, 30 min from Antwerp & Gent)
A space with a beautiful wooden dancefloor. Close to beautiful woods. Free parking.MEALS (not included)
Organic/vegetarian meals will be available at the weekend. More info will follow
STAYING OVERNIGHT (not included)
More info will follow on beautiful places to stay during the weekend.
ART PRODUCTS
If you will be participating at the weekend and you are a creator of handmade products/art, you are very welcome to offer this during the weekend. Also welcome if you would like to expose your art.
Please contact me for further info and arranging: marjon@dansdoorhetleven.com
a warm & lovely welcome!
Sabine & Philippe
are the creators of SuryaSoul® and the DancersOfLife platform. They have been teaching and
moving people worldwide since 2004 in workshops, retreat
centers, festivals, congresses, trainings, hospitals, group and
individual classes. Sabine has been living with a chronic lymphatic condition since birth which has required her to spend time in hospitals and clinics. Dance, Yoga and Meditation have become a
healing journey for her after following the call of becoming an inspiration for many people through movement and dance
events. She is also an architect and designer by profession.
Philippe traveled to India when he was 28 years old to start
a new life in Auroville, the international project on human
unity created in 1968. Trained in Taoist martial arts, his vision
is to connect these movement forms to music. They are living
in Auroville, India and Hamburg, Germany for more than
23 years. Come and join their shining Love for Life through
Dance, Meditation, Rituals, Tao and Yoga.
https://www.dancersoflife.com/