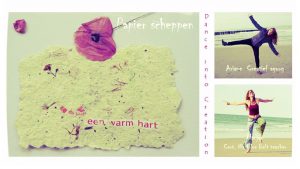 Door te dansen kom je in diepe verbinding met je zelf, met wat er werkelijk in je leeft. Vanuit die ontspanning en verbinding kan je heel puur en eerlijk creeëren.
Via Papier Scheppen of Papier Gieten met bloemen en kruiden uit de tuin, haal je je innerlijk potentieel naar boven en maak je een prachtig kunstwerk.
Met een biohapje en drankje maken we er een gezellige middag van.
Bij mooi weer dansen en creeëren we in de heerlijk bloemen- & kruidentuin bij Ariane.
Bij regen zijn we binnen (op dezelfde locatie)
Iedereen kan meedoen, geen enkele ervaring nodig!!
Je voorbereiding:
Versnipper 2 koppen dun wc-papier, tissues of servetten in een maatbeker, giet er ruim water op en mix. Breng je gemixte water/papiermengsel mee.
Je bijdrage * speciale introductieprijs *
16 euro
Inschrijven:
Schrijf je vooraf in om je plekje te reserveren!!
Marjon: marjon@dansdoorhetleven.com
Ariane: ariane.meulenberg@gmail.com
Waar?
Vlasstraat 36
4576 BB KOEWACHT (NL)
Van harte welkom !
Ariane & Marjon
Ariane Meulenberg, Creatief Agoog
www.zininleven.be
Marjon van Dorsselaer, Nia® Certified Blue Belt dance teacher
www.dansdoorhetleven.com