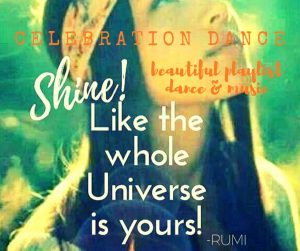 Dance Celebration * Nia® Music Movement Magic Playlist
zondag 15 december 13.30-15.30 uur, Hulst
Welkom om heerlijk te dansen met een
MAGISCHE NIA® PLAYLIST ♥
We dansen een unieke mix van Nia® dans, beweging, muziek, sensaties
Een reis door zeven jaar Nia® beleving ♥
Celebrate, Dance & SHINE!!!
Your Body's Way ♥ The Joy of Movement
*samen* dansen op *je eigen* manier ♥
Nia® is the Joy of Movement for your Body, Heart, Soul & Spirit
Een inspirerende magische mix van dans, freedance, krijgskunst & lichaamsbewustzijn ♥ 52 bewegingen ♥ 9 bewegingsvormen
Nia is Music, Movement, Magic!
We dansen op onze blote voeten.
Geen ervaring nodig!
Iedereen welkom!! van ervaren Nia dansers tot nieuwe dansers ♥
***Heb je een 'verzoeknummer' of meerdere?***
je favoriete dans, choreografie, muziek.... die je graag nog een keer zou beleven...??!!
Laat het me weten vóór 10 december via mail marjon@dansdoorhetleven.com of PB en ik kijk om het in de playlist te passen!
Agenda
Je bent welkom om 13.15 uur.
Een Nia beleving waarbij we beginnen met het opwarmen van ons lichaam, gewrichten, adem.. In beweging komen ~ dansen van uitbundig tot verstillend ~ van wild tot gracieus ~ van expressief tot ingetogen ~ met muziek vanuit de hele wereld. We eindigen met een 'cool down', heerlijk ontspannen op de vloer,
Tussendoor is er een korte pauze!
Na de dans is er gelegenheid om samen iets te drinken in de gezellige bar van den Dullaert als je zin hebt ♥
Locatie
We dansen in de mooie Theaterzaal, met heerlijke dansvloer
Cultureel Centrum Den Dullaert, Sportlaan 24, Hulst
Gratis parking, kleedruimte, douches
Inschrijven/Bijdrage
Graag vooraf laten weten of je komt: stuur een mail naar marjon@dansdoorhetleven.com
Kassa: 15 euro
Super early bird: 11 euro - inschrijven* vóór 30 november!
Early bird: 13 euro - inschrijven* vóór 9 december!
* inschrijving is compleet zodra je betaling is gebeurd (vooraf contant of via bank transfer)
Graag meenemen
matje of handdoek, flesje water
mocht het voor jou niet mogelijk zijn om op blote voeten te dansen, neem dan bijv. schoentjes met dunne zolen mee
Feel free om deze uitnodiging te delen met familie, vrienden, collega's, ..
Welkom!
Marjon
Nia® Blue Belt teacher
www.dansdoorhetleven.com