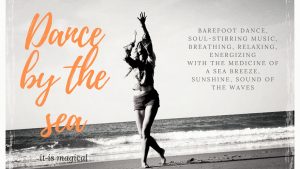 maandag 29 juli, 11-12.30h, Breskens
let op! is gewijzigd van zondag naar maandag!
relaxing & energizing your whole body & mind
by the sea
het gaat door !! het wordt 24 graden met een zonnetje erbij 🙂
check voor verdere updates op deze site of in het FB-event!
Met je blote voeten op het zand, met de magie van de zee.
Dansen, vrij bewegen, ademen & diep ontspannen…genieten van een zeebriesje, de geluiden van de golven, de energie van de zon..
Met 'soul-stirring' music, eenvoudige choreografie & vrije beweging.
<3 dance your prayer at the sea
Nia Holistic dance <3 Enter in the temple of your body. Move in loving ways. Free expressive movement. Awaken to your own dance. <3
Datum/tijd
maandag 29 juli, 11.15 – 12.30h, welkom om 11h bij het afspreekpunt om samen naar de dansplek te lopen.
Aanmelden
mail naar marjon@dansdoorhetleven.com
bij aanmelding ontvang je de precieze locatie op het strand!
Bijdrage:
11 euro
Voor wie?
Iedereen welkom, geen ervaring nodig!
Meenemen
kleding waarin je gemakkelijk kunt bewegen
handdoek, flesje water
event op FB: https://www.facebook.com/events/755029851579398/
Nodig je vrienden uit!
a shining welcome ♥
Marjon
SuryaSoul®DanceOfSoma&Spirit teacher
Nia® Certified Holistic Dance teacher