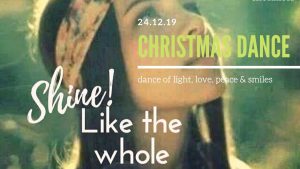 Christmas Dance Special
ME-TIME!
dinsdag 24 december, 10.30 - 11.30u in Hulst
dance of 𝓵𝓲𝓰𝓱𝓽, 𝓵𝓸𝓿𝓮, 𝓹𝓮𝓪𝓬𝓮 & 𝓼𝓶𝓲𝓵𝓮𝓼
een mooie mix van muziek, dans, choreografie & vrije dans! een dans voor je body, mind & soul ♥ that makes you feel 𝓖𝓞𝓞𝓓, 𝓡𝓔𝓛𝓐𝓧𝓣 & 𝓙𝓞𝓨𝓕𝓤𝓛!
ME-TIME in deze drukke periode.. om even helemaal in je lijf te komen, te ontspannen, ademen, vertragen, loslaten, expressie te geven, ruimte creëren in jezelf voor wat komen gaat 😉
inspiratie: Nia® choreografie, vrije dans, soul-strirring muziek ~ beats, melodieën, sounds vanuit de hele wereld
Bijdrage:
11,50 euro
voor dans door het leven leden: met strippenkaart: 1 strip
met lessenkaart (afgelopen periode) en aanZ Nia leden: 9 euro
Locatie: Cultureel Centrum den Dullaert, Theaterzaal
Sportlaan 24, Hulst (the Netherlands)
Neem mee: een flesje water, kleding waarin je je vrij kunt bewegen
Heb je nog vragen, laat het me weten.
Iedereen welkom!!
Marjon
SuryaSoul®DanceOfLife teacher
Nia® Certified Holistic Dance teacher