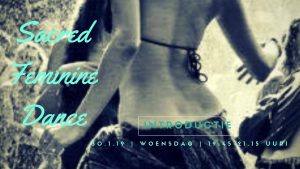 Beautiful Women, Welkom bij deze introductie!
Sacred Feminine Dance
Dance your Sparkle * A Goddess Sensual Serene Playful Wild Medicine Woman * ALL OF YOU dance
Thuiskomen in je lijf, de vrouwelijke energie van je bekken en heupen in beweging brengen, de sierlijkheid van je handen, de sensualiteit van je gewrichten
Ontwaken in je vrouwelijke essentie, sensualiteit, wijsheid, helende energie, intuïtie, schoonheid, kracht en JOY! Je lichaam is jouw tempel. Terugkeer naar de bron.
De beleving..
Zacht landen in je lijf, los schudden, je ritme laten ontstaan
Je neemt je intentie mee in de dans
We dansen een eenvoudige choreografie & vrije expressie waarbij je de vrouwelijk energie door je heen laat dansen,
met je blote voeten, handen, je hele lichaam, al je sensaties.
Met een free dance waarbij je je laat leiden en bewegen door je intuïtie, je overgeeft aan je dans en het moment.
Loslaten in de dans, je energie laten stromen, je eigen ritme vinden.
We ontspannen & bewegen naar de stilte.
Met prachtige ritmes & melodieën vanuit de hele wereld, van sereen tot uitbundig, van verstillend tot expressief. Indiase sitar muziek, viool muziek, drums, ……
**The dance is about awakening & nurturing the cordious soulful piece that is already there**
"As we abandon and surrender ourselves to the dance that unfolds from within, we enter a 'thought-free' state where the mind becomes a focused instrument for the song of the heart and we are able to enter deep levels of joy and bliss" ~ Sacred Women, Sacred Dance
Welkom bij deze introductie!
Woensdag 30 januari, 19.45-21.15 uur
Deze intro duurt 1,5 uur!
De vervolgsessies zijn van 19.45-21 uur! De reeks start 6 februari, meer info over verdere data volgt!
***Voor wie?
Vrouwen, leeftijd vanaf 16 jaar tot...
Je hebt geen danservaring nodig!
***Inschrijven/Investering voor deze introductiesessie:
14 euro/aanmelding met 2: investering samen 25 euro
10 euro – dans door het leven-leden (met kaart)
Mail me om je aan te melden: marjon@dansdoorhetleven.com
***locatie
prachtige Theaterzaal, met houten vloer en fluwelen gordijnen
Cultureel Centrum den Dullaert, Sportlaan 24, Hulst
***Meenemen:
Kleding (evt. laagjes) waarin je gemakkelijk in kunt bewegen en ontspannen, waar je je mooi en vrouwelijk in voelt
Flesje water
Er zijn matjes en meditatiekussens in de zaal.
***Testimonials:
'Wauw wat een bijzondere middag! Waarbij mijn kracht en kwetsbaarheid samen zijn gekomen en ik door te dansen allebei heb kunnen omarmen. Ik ga met een frisse blik en een nieuwe dosis zelfvertrouwen mijn nieuwe jaar tegemoet 🙂 Dankje Marjon voor jouw kracht en warmte deze middag.' Liefs, Anouk
'De medicine woman reeks was als een reis. Eerst gaan je lichaam en geest zich aanpassen, daarna lijkt het alsof je herboren wordt. Een topervaring en zeker aan te raden!' Peggy
Heb je nog vragen, laat het me weten!
Een 'sparkling' welkom!!
Marjon
Marjon van Dorsselaer
Nia® cert. Blue Belt teacher
SuryaSoul®DanceOfSoma teacher
Life's a dance
www.dansdoorhetleven.com