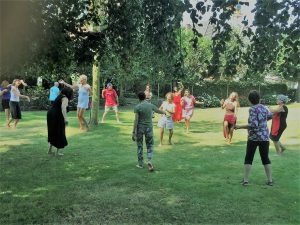 dinsdag 10 & vrijdag 13 juli
10.15 tot 11.30 uur
nog een keer dansen in de prachtige
Grote Stads/binnentuin in Hulst
ingang Bontehondstraat (bij The Captains Coffee*)
We kunnen heerlijk in de schaduw van de grote bomen dansen.
Een unieke beleving om buiten te dansen!
Nia® is de magie van dans, krijgskunst en lichaamsbewustzijn <3 inspirerende muziek en vrije beweging.
Het wordt een speciale buiten~danssessie
(met o.a. de magische Craft of the Warrior)
10.15 - 11.30 uur Nia® Joy of Movement ♥ Dance the path with Heart
daarna: voor wie zin heeft.. potluck picknick & chillen, met prachtige live muziek! Eddy Modde zal een paar nummers live zingen/spelen op gitaar! 🙂 van zijn ♥ Your Heart is Gold tour ♥ 
https://eddielives.wixsite.com/music
tarief buitenevenement (75 min.): 10 euro
of met strippenkaart + bijbetaling
(p.s. de lessenkaart was vorige keer de laatste les)
Neem een handdoek of matje mee!
Bij regen..
* Captain's coffee is open vanaf 9.30 uur.
Mocht je daar willen starten met een drankje op het terras of binnen 😉
Heb je nog vragen? Laat het me weten!