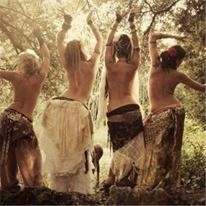 zaterdag 18 november
19.15 - 21.45 uur
Droomatelier Stekene
Welkom dear sisters
bij de Sacred Feminine New Moon Dance Circle
TO OPEN UP to your DIVINE FEMININE BODY & SELF
TO DANCE & CONNECT with the spirit of the NEW MOON ♥ 
with Sisters from heart to heart ♥ with Mother Earth ♥ with the Global Sisterhood theme
♥ SACRED SEXUALITY: I HONOR MY BODY, MY POWER AND MY PASSION
MOVEMENT IS PRAYER
Dansen, bewegen, je innerlijke wijsheid & flow volgen. Alles verwelkomen, door je heen laten bewegen en tot expressie brengen via je lichaam. Vertragen, jezelf ontmoeten in de stilte. Verbinden met je vrouwelijke natuur en verdiepen ♥ je medicine woman - je healing power.♥ je vrouwelijke creatiekracht laten stromen. Verbinden met elkaar vanuit onze ware essentie ♥
R E M E M B E R W H O Y O U A R E ♥
NIEUWE MAAN ENERGIE
De opkomst van de maan symboliseert een nieuw begin, een nieuwe start. Wat laat je los en wat wil je ontvangen? Een krachtige periode om iets nieuws te starten; je intenties en wensen duidelijk te maken. Door ons af te stemmen op de maan komen we als vrouwen meer in contact met onze eigen natuurlijke stroom en vrouwelijke essentie. 
DEZE NIEUWE MAAN
Scorpio: (Water Sign) - Depth, Intuition, Passion, Sexuality/
Sensuality, Death/Rebirth
SACRED SEXUALITY: I HONOR MY BODY, MY POWER AND MY PASSION UNIFY ~ GLOBAL SISTERHOOD
Our female bodies are receptive vessels, able to open and receive the seed of inspiration that, when nourished, is able to blossom into new life. We also do this for ourselves over and over again within one lifetime. This is the sexual power we women carry in our bones and blood, the power that has been feared, hunted and suppressed for centuries.  Our sexual force – which encompasses much more than the act of sex or being sexually appealing -- is pure creative power that can be used to enliven and enrich our own lives and the lives of others. When we learn to properly wield our sexual power, we become stronger, more balanced, whole and healed, and able to actualize our visions into service for the world. Sisters, we have a lot to heal in our world within the realm of sexuality. We call to every sister to rise, if not for yourselves then for your sisters, mothers, grandmothers and daughters. We have the opportunity to rise, hand-in-hand, and reclaim our sexual power as a lightning rod of healing for our world. Join us as we reclaim wholeness, purity, and the true power of our sexuality – together. http://women.unify.org/
LOCATIE/TIJD
DroomAtelier, Huikstraat 6, Stekene
Welkom om 19.15 uur! We starten om 19.30 uur en sluiten af rond 21.45 uur ♥
AGENDA
Welkom in cirkel
Global Sisterhood Heart meditatie & theme visualisatie 
Temple Practices ♥ Sacred Feminine Dance circle *
Sacred Free Dance Journey **
Opening your Sacred Voice ***
Intentie/Wensen
Afsluiting in cirkel
* TEMPLE PRACTICES♥SACRED FEMININE DANCE: embracing & enhancing our feminine nature. We enter more deeply into our bodies; our sensuality; our healing energy. We will open up to the connection to our divine self. Temple Practices & Nia® inspired dance. Nia@ is moving your body & soul ♥ dance, martial arts & healing arts.
** SACRED FREE DANCE JOURNEY: we will go on an inner journey, with soul stirring music inspiring you & inviting you to move inside & out. We enter a mysterious realm where all is welcomed and felt and expressed true the body. Becoming real with it and allowing it to guide us into our true nature, our rhythm. Allowing ourselves.. to be danced bij the wild dance of the moment. We will meet from our Divine Essence with eachother. 
*** OPENING YOUR SACRED VOICE: While moving & dancing we will deepen in our song, open in our body. Sounding & Chanting, Grounding fully in your body, belly, breath & Mother Earth. 
We dansen in een sacred space, een veilige omgeving, met respect voor jezelf en voor elkaar; ruimte voor wat is; genieten van aandacht voor jezelf; verbinden, delen & plezier beleven met elkaar.
MEENEMEN
deken, kussen, water, krachtsymbool, kaars
kleding waar je je fijn en mooi in voelt
INSCHRIJVEN & BIJDRAGE
Graag vooraf inschrijven om je plaats je reserveren! stuur een mail naar marjon@dansdoorhetleven.com.
Na inschrijving ontvang je een mail met verdere info.
Je bijdrage: 17 euro
Welkom om deze uitnodiging te delen met SISTERS ♥
Volgende geplande Sacred Feminine Moon Dances:
02/12/2017 Sacred Feminine Full Moon Dance
16/12/2017 Sacred Feminine New Moon Dance Circle
02/01/2018 Sacred Feminine Full Moon Dance 
19/01/2018 Sacred Feminine New Moon Dance Circle 
31/01/2018 Sacred Feminine Full Moon Dance 
Wil je info ontvangen over de komende events, stuur me een mail: marjon@dansdoorhetleven.com
Een warm welkom!
♥ Marjon
Marjon van Dorsselaer
cert. Nia Blue Belt holistic dance teacher
Life's a dance