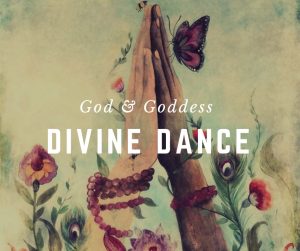 Wednesday November 20, 19.45 – 21.30h
??????? ???? ??? & ?????, ????????? ???? & ????????? to this dance of re-awakening into unity & connection.
The Holy Marriage ♥ the Universal Unity between our Divine Masculine and Divine Feminine Being.
The dance of Shiva & Shakti ♥
.
Divine male & female energy and their harmonious co-operation are the base for creating and manifesting from and in this new world
We come together in a sacred space to explore, deepen, awaken, remember, rise, celebrate, connect, surrender into, free, inspire & get inspired by .. feminine & masculine energy.. A joyful loving powerful & transforming journey ♥
???? ??? ????? ?? ???????? & ???????? ??? ??? ??????? ??
* root into your body
* open & relax through breathing, stretching, shaking
* deeper connect with your body, womb & hips
* dive into the space of silence & consciousness
* awaken into your divine feminine & masculine essence
* guided & free sacred dance expression
* practices to awaken & unite your body & soul
* tap into the guidance of your wisdom, your healing power
* connect with your true infinite self, your source
* trust your natural flow & rhythm
* embrace & breathe into all of you, your feelings & emotions
* connect with your true nature & the earth
* LOVE & EMBRACE your body & soul
* free your voice..sound, express, sing mantra's
* let go, surrender
* slow down, soften, find your inner peace
* be inspired by beautiful music
* say YES to your highest dreams, your divine purpose & gifts
* … RISE INTO YOU.. INTO YOUR WHOLENESS & UNITY
Practical
Location of dance
Cultureel centrum den Dullaert
theaterzaal ~ a beautiful space with wooden floor & velvet curtains
Sportlaan 24, Hulst
free parking
For who
all men & women who feel the desire & call
Registration
send me a mail to register! marjon@dansdoorhetleven.com
Investment
20 euro
If you have a social income and you really would love to come, please mail me for adjusted amounts to support you to join.
Date/time
Wednesday 19.45-21.30h
Bring with you
clothes to move in freely, in which you feel happy & comfortable
water, blanket
* yoga mats & meditation cushions available
Feel free to invite other men & women ♥
If you need any further info, please feel free to contact me ♥
? ????, ?????? & ?????? ???????
???? ???? ??????
Sacred Feminine Dance
SuryaSoul®DanceofLife
Nia® holistic dance