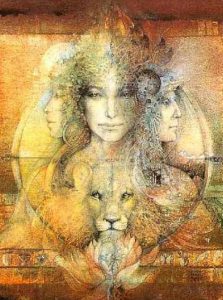 * We are all in a need of an energy boost, and this Leo New Moon is going to energise our soul and our heart centre so we can move forward with courage, grace and ease. * The theme of this New Moon is fun and creativity *
Door te dansen en bewegen kom je in diepe verbinding met je zelf, met wat er werkelijk in je leeft. Je verbindt je met je hart en ziel. De vuurenergie van Leeuw: je danst je passie, je danst en geeft expressie aan jezelf, je danst hoe je gezien wilt worden. Authentiek, met overgave en enthousiasme. Naar buiten laten stromen. De energie van Nieuwe Maan; je maakt een nieuw begin, je laat beweging onstaan, je focust.
Agenda
* hart meditatie (Unified Heart Meditation)
* inspirerende eenvoudige Nia® choreografie om in ons lijf te komen
* begeleide freedance
* ♥ collage intenities
Datum: woensdag 3 augustus
Tijd: 13.00 – 15.15 uur
Locatie: tuin Tarweweg 6, Absdale (afhankelijk van weer binnen of buiten)
Heerlijke kruidentheetjes
Meenemen: matje/handdoek/kussen
Vroegboekprijs: vooraf inschrijven/betalen uiterlijk 2 augustus: 12 euro
Bijdrage aan de kassa: 15 euro
Stuur een mail naar marjon@dansdoorhetleven.com!
Graag vooraf laten weten of je komt!